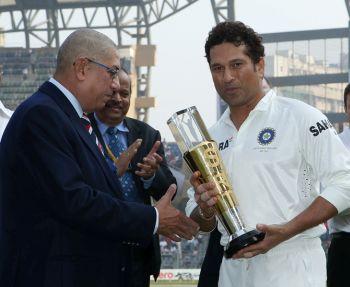 BCCI president N Srinivasan paid rich tribute to Sachin Tendulkar, who brought down curtains on his 24-year illustrious career, saying the legendary cricketer is an "inspirational figure" and deserves to be conferred with the Bharat Ratna.
Tendulkar bid a tearful adieu to international cricket after playing his 200th Test, which India won by an innings and 126 runs against West Indies at Wankhede stadium in Mumbai.
"Sachin Tendulkar is an inspirational figure, and a role model for all sportspersons. He richly deserves the Bharat Ratna. I extend my heartiest congratulations to him," Srinivasan said in a release.
Tendulkar will be the first sportsperson to be honoured with the Bharat Ratna, India's highest civilian award.
BCCI vice-president Rajeev Shukla was also full of praise for Tendulkar.
"Looking back at your journey and whoever has helped you in that journey...to remember them, that's call gratefulness. This person (Sachin Tendulkar) has got gratefulness in his personality. He has touched everybody's heart today, said Shukla.
"Sachin will always be remembered and people will always get motivated by him.
"His Longevity, the kind of records he has achieved in his phenomenal career, it can't be broken for another 100 years. He deserves the kind of honour. It is a great privilege that the Government has chosen him for the award."
Tendulkar bowed out as the most successful batsman in international cricket with 15,921 runs in 200 Tests. In his ODI career Tendulkar amassed 18,426 runs in 463 matches.
Image: N Srinivasan and Sachin Tendulkar
Photograph: BCCI