Batting maestro Sachin Tendulkar on Tuesday released the book Cricket at Fever Pitch, penned by veteran journalist Khalid A H Ansari, at a function at the Cricket Club of India in Mumbai.
The book, published by Popular Prakashan, is a compilation of articles written by Ansari. It has a foreword by Sunil Gavaskar, and encapsulates the passing parade of Indian cricket from 1968 to 2005.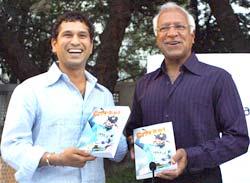 It is also a kaleidoscope of the highs and lows, character angels and demons of international cricket.
The author presents an insider's dressing-room view of memorable matches, personalities and events in India and abroad.
Tendulkar said it was an honour to release the book, and a treat to read Ansari's articles.
"I am sure this book would soon become a collector's item," he added.
Sunil Gavaskar, speaking on the occasion, said, "Since I met Mr Ansari in 1971 we have been great friends. I also had the pleasure of being the editor of the Sportsweek magazine in the 80s and we had a great time and came up with some brilliant issues."
He added that on starting the CHAMPS Foundation, to help needy sportsmen, there were only two names he could think of as trustees, because of their integrity. One was Khalid Ansari and the other, Nana Chudasama.
Ansari said it was his close friend, the late Dr Rafiq Zakaria who made him write the book.
"Since I had always resisted writing an autobiography, because I thought it was an act of supreme egotism, Dr Zakaria prevailed upon me to write a book, as I owed it to future generations.
| | |
| --- | --- |
| | Also Read |
| | |
"The book, therefore, is a collection of my articles over the last 40 years and it records some milestones in the rich history of Indian cricket and I hope it will entertain and inform," he said.
Former president of the Board of Control for Cricket in India Raj Singh Dungarpur, Popular Prakashan publisher Harsha Hatkar and commentator Harsha Bhogle also shared their thoughts on the occasion.
Former cricketers Dilip Vengsarkar, Gundappa Vishwanath, Dilip Sardesai, Polly Umrigar and Bapu Nadkarni were also present.
Photograph: Ralphson David/AFP/Getty Images
- UNI