In the list of numerous accolades 'Master Blaster' Sachin Tendulkar has garnered over the years, one is missing.
However, the batting maestro my soon be honoured with India's highest civilian decoration -- the Bharat Ratna.
A strong case to the effect has already been made, declared Mumbai MP Sanjay Nirupam at an initiative 'Support My School', a movement to build healthy, happy and active schools in Mumbai, which Tendulkar is the campaign ambassador.
"We have strongly recommended your name for the Bharat Ratna, and we should know the result in a few days," said Nirupam, speaking on the occasion.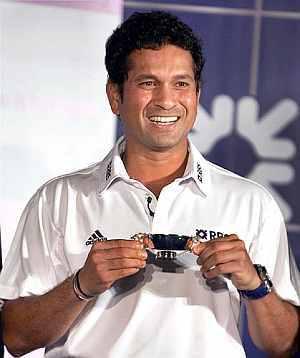 The demand for the same had first been made way back in 2003 when the then Human Resource Development Minister, Murli Manohar Joshi, had seconded Shiv Sena's claims to bestow the honour on the prolific batsman.
Earlier in March last year, the Maharashtra state government had announced its decision to recommend the Master Blaster's name for the country's highest civilian honour.
The demands from various quarters - including politicians and ex-cricketers -- had intensified after Tendulkar became the first player in the history of cricket to score a double hundred in One-Day Internationals -- achieving the feat against at Gwalior outh Africa in February last year.
The demand attained gargantuan proportion late last year -- after he recorded his 50th ton in Tests - when many renowned names in Indian sports -- Vishy Anand, Kapil Dev, Gagan Narang, Vijender Singh to name a few, supported claims of Tendulkar receiving the honour.
The Master Blaster had reacted to the demands in an expectedly modest tone. "It is a rare honour but I am focusing on cricket," Tendulkar had been quoted as saying last year. "If it has to happen, it will happen," he had added.
If the 37-year-old eventually receives the honour, it will mark yet another first for him -- for he will become the first sportsman to be awarded the prestigious honour.
And looking at the manner the demand is getting significant, it won't take long before the Master Blaster attains yet another milestone.