A day after reports surfaced in the media about Sachin Tendulkar not being too happy about the Cricket Association of Bengal going overboard with celebrations pertaining to his 199th Test appearance, the latter was caught short of the crease again.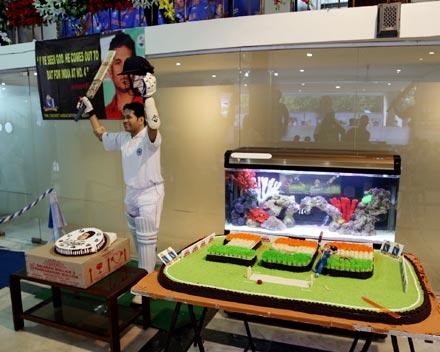 Shortly after Tuesday's practice session, on the eve of the opening Test against the West Indies, captain M S Dhoni pointed out that the Master Blaster's name had been misspelt (as Sachine) in a banner over the giant scoreboard, forcing the CAB to issue an apology.
"It is unfortunate; but it is a mistake. And once a mistake is committed it feels bad," said CAB treasurer Biswarup Dey.
"We apologise for the inconvenience caused," he added, before saying that steps had been taken to rectify the same.
"This was the responsibility of the agency -- the Chennai-based Technology Frontier India Pvt Ltd -- that was handling the same," explained the veteran administrator.
"We have issued them a show cause notice and we will take appropriate action once we hear out their explanation."
The banner was quickly removed to avoid further embarrassment.
Dey, though, wasn't very pleased that the gaffe had been pointed out by Dhoni, among all other people.
Asked to react on the fact that India's captain had overlooked all the hard work put in towards making the occasion a memorable event and pointed out the negative, the treasurer's reply was tongue-in-cheek.
"This is a democratic country, and in a democracy everyone is entitled to have his opinion," said Dey.
He was, however, regretful about Dhoni's other complaint.
Dhoni had questioned the availability of a lone (local) fast bowler at the nets. Since the team management wanted to give the quicks a break, the captain was forced to bowl quite a few overs during the practice session, owing to a lack of options.
"We regret this has happened and will speak to the liaison officer regarding the same," assured Dey.
Image: A wax figure of Sachin Tendulkar on display at the Eden Gardens in Kolkata
Photograph courtesy: West Indies Cricket Board