Ganguly begins fitness drill ahead of NZ home series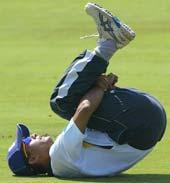 Fresh from an Italian holiday, Indian skipper Sourav Ganguly is back to business once again.
Keeping the coming New Zealand home series in mind, the left hander has started a fitness regime in right earnest to get back into shape well ahead of the fixtures against the Kiwis from October.
Ganguly, who returned home on Thursday after spending a couple of weeks sightseeing in Italy following his father's heart check up in London, spent an hour at the Pankaj Gupta Indoor Coaching Centre of the Cricket Association of Bengal on Tuesday.
He worked at the gym and did free-hand exercises as per the programme chart given by physio Andrew Leipus and former Indian team physical trainer Adrian Le Roux.
England release strike bowler Harmison
England have released strike bowler Steve Harmison from their one-day triangular series squad.
Harmison will play for his county side Durham in a four-day game against Worcester starting on Wednesday, ruling him out of England's next match against South Africa at Old Trafford on Thursday.
Harmison has been in the one-day squad for this month's series against Pakistan and the triangular event against South Africa and Zimbabwe, but has yet to be selected in a starting line-up.
The 24-year-old has played seven tests and five one-dayers, the last in January against Sri Lanka.
Pakistan requests ACC to reschedule junior event with India
Pakistan has requested the Asian Cricket Council to alter the schedule for the four-nation junior level tournament involving India because it clashes with major cricket events to be hosted by the country in the same period, an official said on Tuesday.
"We welcome India's participation in the event as the first step towards resuming cricketing ties but want the event to be rescheduled from September to November this year," PCB chief Lieutenant General Tauqir Zia said.
Pakistan is due to host senior teams from Bangladesh, South Africa and New Zealand in a hectic home season from August to November this year.
Patil not too impressed with performance against Durham
Coach Sandeep Patil was not happy with the drawn result of the four-day game between India 'A' and Durham county at Chester-le-Street, and criticised his players of not following a proper game plan.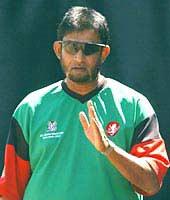 Patil felt his batsmen played too slowly in the second innings and the seam bowlers were not entirely up to the mark.
"It is not an acceptable excuse for our seamers to say that it was a flat pitch. They have to learn to adapt to any conditions if they want to have a Test future," Patil told reporters on Monday.
"Also our batters were a little over-cautious because they want to please the selectors. We got into a good position in the first innings and I felt we could have accelerated.
"You have to have targets in mind and achieve them. We didn't do that, which was why the declaration (in the second innings) came late."
The game ended in a draw after rain washed out more than a session of play left with India 'A' at 95 for three in their second innings after having taken a ---run first innings lead.
Patil praised the efforts of spinners Murali Kartik and Amit Mishra, who claimed seven wickets between them, but was not happy with their tendency to bowl no-balls. Kartik bowled 12 no-balls and Mishra 11.
"I was shocked," Patil said. "I have looked at their records and they hardly ever bowl no-balls. It's a crime for spinners and our fines system means they are going to have to pay for it.
"They couldn't explain it, but perhaps they were getting excited when the wickets started to fall and they were rushing too much."
BCCI, Madhavan not hostile towards Azhar
BCCI's investigating officer K Madhavan, who probed the match-fixing scandal, on Tuesday submitted before a city court that neither he nor the BCCI had adopted a discriminatory or hostile attitude towards the former cricket captain Mohammad Azharuddin.
In order to gain public sympathy Azharuddin had raked up a controversy against Madhavan, the former CBI officer's counsel argued before the Second Additional Chief Judge City Civil Court at Hyderabad on Tuesday.
Making submissions before the chief judge, the counsel read out the correspondence between Madhavan and Azhar seeking his defence in the match fixing case to substantiate his stand that Madhavan had approached the issue of inquiry into the match fixing instances with an open mind.
He stated that there was absolutely no connection or personal rapport between Madhavan and Azhar prior to the beginning of the enquiry.
He also pointed out that Madhavan had accommodated the former Indian skipper on every single issue also with regard to the time constraints.
BCCI to build cricket stadium in J&K
The BCCI has granted an aid of Rs 4 crore for building a cricket stadium in Jammu and Kashmir, president of state's cricket association and former chief minister Farooq Abdullah announced on Tuesday.
Abdullah, who was recently re-elected as president of the Jammu and Kashmir Cricket Association for a second term, hailed the efforts of BCCI in reviving cricket in his militancy-hit state and said he would ensure that the game was properly developed in Jammu and Kashmir.