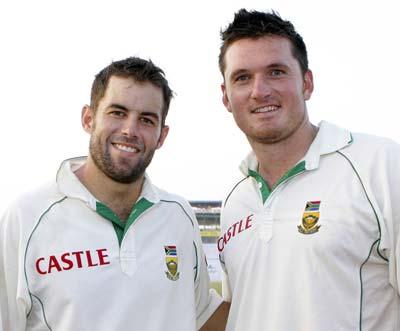 South Africa skipper Graeme Smith and Neil McKenzie set a world record for the opening wicket partnership on the second morning of the second and final test against Bangladesh on Saturday.
Smith was on 231 and McKenzie on 170 when they surpassed the record of 413 for the opening wicket set by Indian pairing Vinoo Mankad and Pankaj Roy against New Zealand in 1956.
Their partnership ended shortly after on 415 when Smith was bowled by Abdur Razzak for 232.
Highest first-wicket partnerships
415 - Graeme Smith and Neil McKenzie, South Africa v Bangladesh, in Chittagong, Bangladesh, March 1 2008
413 - Vinoo Mankad and Pankaj Roy, India v New Zealand in Chennai, India, January 6, 1956
410 - Virender Sehwag and Rahul Dravid, India v Pakistan in Lahore, January 13 2006
387 - Glenn Turner and Terry Jarvis, New Zealand v West Indies in Georgetown, April 6 1972
382 - Bill Lawry and Bob Simpson, Australia v West Indies in Bridgetown, May 5 1965
Highest partnerships in Test cricket
624 - Kumar Sangakkara and Mahela Jayawardene, Sri Lanka v South Africa in Colombo, July 27 2006
576 - Sanath Jayasuriya and Roshan Mahanama, Sri Lanka v India in Colombo, Aug 2 1997
467 - Andrew Jones and Martin Crowe, New Zealand v Sri Lanka in Wellington, New Zealand, Jan 31 1991
451 - Bill Ponsford and Donald Bradman, Australia v England at The Oval, London, Aug 18 1934
451 - Mudassar Nazar and Javed Miandad, Pakistan v India, Hyderabad, Jan 14 1983
446 - Conrad Hunte and Garry Sobers, West Indies v Pakistan in Kingston, Feb 26 1958
438 - Marvan Atapattu and Kumar Sangakkara, Sri Lanka v Zimbabwe in Bulawayo, May 14 2004
429* - Jacques Rudolph and Boeta Dippenaar, South Africa v Bangladesh in Chittagong, Bangladesh, April 24 2003
415 - Neil McKenzie and Graeme Smith, South Africa v Bangladesh in Chittagong, Bangladesh, March 1 2008