Former India captain Sourav Ganguly, who remained unsold during the recent IPL auction, on Wednesday said that he was ready to play in the IPL if selected.
Asked by a Bengali TV channel if he would agree to replace in IPL 4 any player in case of injury, the former Kolkata Knight Riders captain replied in the affirmative.
Asked in what form would he like to be seen in the World Cup, he said, "Of course not as a critic, but as an analyst."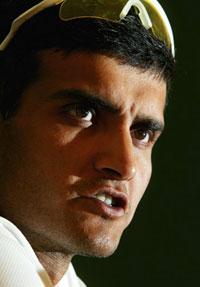 Ganguly said he would be a positive analyst of the game since he himself faced a lot of criticism.
The left-hander, who top-scored for KKR in the last edition of IPL with 493 runs in 14 matches and a strike rate of 117.66, was not picked up by any of the 10 IPL franchises including KKR.
Ganguly was initially placed in the $200,000 price bracket, but increased his base price to $400,00 just before the auction.