A day after speculation about his retirement from all forms of cricket did the rounds, former India captain Sourav Ganguly on Tuesday said it was a classic case of misunderstanding and he was "shocked and disappointed" to see how his comments were misinterpreted by the media.
Reiterating that he has not called it quits from domestic cricket, Ganguly said the media blew his remarks out of proportion, and at no point of time during the interview did he speak about complete retirement from the game.
"It was completely misunderstood. It was in a sequence of questions… I had said that I would not play domestic cricket if don't play in IPL. It was said in a different perspective completely," a peeved Ganguly said.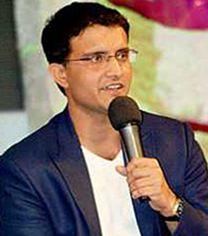 "I had never said in the interview that I was retiring from all forms of cricket and there was no question of backtracking. I don't understand how they (media) came to such a conclusion," he added.
"There was no controversy at all. After learning that something was misunderstood during the interview, I had sent a rejoinder and said if I don't get to play IPL, I will not be participating in any forms of domestic cricket. But if I do get an opportunity to play IPL, I will play domestic cricket to stay fit," added the left-hander, who was snubbed by all the ten IPL franchises in the auction for the fourth edition on the event.
Speculation about Ganguly's retirement from all forms of the game triggered on Monday after his interview to a television channel was misinterpreted by the media.
"It's very disappointing and shocking to know that the way the media interpreted it and blew it out of proportion. It should not have happened like this," Ganguly said.
"It was a classic example of I say something in some context which was understood completely in a different way in some other context," he said.
Asked how he sees his cricketing career panning out after all the franchises chose to ignore him for IPL IV, Ganguly said, "You have to wait and see.
"I will take a call if an opportunity comes in my way in future. I have already retired from international cricket (after the Australia series) in 2008. And it's too far to talk about the next IPL."