Embattled West Indian fast bowler Jerome Taylor, who was recently engaged in a war of words with the West Indies Cricket Board (WICB) over fitness, says he is ready for national duty if his services are required.
The Jamaican was of the view that the struggling West Indies can turn the tables on the world's No. 1 Test team India, when they cross swords in a three-match series in the Caribbean in June-July.
"I am always looking forward to play cricket for the West Indies. I'm looking forward to play against India if selected. It is not in my hands. I just have to make sure that I do what's necessary on my part and leave the rest to the selectors, whether they find me fit to select or not.
"Basically I'm just trying to enjoy my cricket. And enjoy my time here. That's what I'm doing now," Taylor said.
"I'm concentrating playing in the IPL (for Pune Warriors). But whenever the West Indies duty calls, I'll make sure that I'll be there to serve it," he added.
Commenting on India's upcoming tour of the West Indies, Taylor said, "Once we get the right combination, it'll be a tough one. We are used to the conditions. If we exploit the conditions well, hopefully we can clinch a 1-0 victory over the Indians."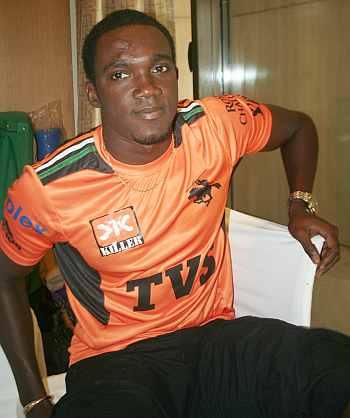 "They are the number one team in the world. Everyone wants to do well against the number one team. We want to do well against India. That's how we are going to move up in the rankings once you start doing well against top teams. We have to ensure that we have the things in place," he added.
Declining to comment on the controversy surrounding him and the WICB, Taylor said he was trying to move on and preparing for a comeback into the national side.
"Those are things of the past. I don't really want to shed too much light on that. I am just looking to move on forward from here. Right now I am concentrating on my game and on ensuring that I'm ready to represent the West Indies whenever I'm called upon."
The WICB had hit back at Taylor for claiming that the board did not check on his injury, saying the paceman left to play in the IPL without taking clearance from its appointed therapists.
Taylor, on the other hand, had said WICB did not contact him about his back injury, which he had suffered during a regional four-day tournament back home, before he left to join Pune Warriors, and it only did so on April 7, once he had arrived in India.
Asked whether it would be difficult to represent WICB, which has raised questions over his commitment to improve his fitness, he said, "It not the right time to talk about that. Whenever the time comes, I will definitely cross the bridge."
Taylor, who has taken 98 wickets in 66 ODIs and 82 wickets in 29 Tests, said constant injuries had hampered his progress.
"Its not a matter of disappearance. I have been in and out due to injuries. Haven't been able to play regularly as I used to.
"(My career has been) hampered by injuries. I was on the path to achieve my targets which I had set out (for myself). Its just that as a career, whenever it ends I can say that I have achieved this much if not for injuries I would have reached my goals. However, I'm trying to reset the goals and achieve as much as possible," he added.
Photograph: Reuben NV