Retired batsman VVS Laxman will lead Hyderabad in the Ranji Trophy Group 'A' league match against a Punjab Cricket Association team in Mohali from November 2.
The 37-year-old had announced retirement from international cricket in August this year ahead of the home series against New Zealand despite being selected to play.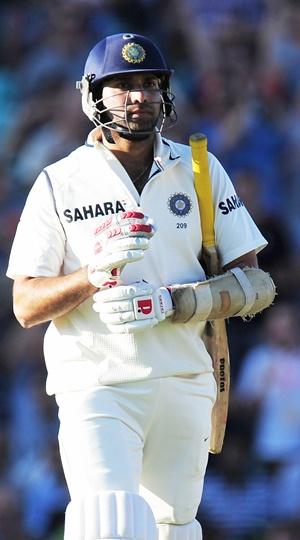 The other members of the Hyderabad Ranji team are D B Ravi Teja (vice captain), P Akshat Reddy, G H Vihari, N Arjun Yadav, Ahmed Quadri, B Sandeep, Ibraheem Khalil (wk), Pragyan Ojha, M A Khader, Anwar Ahmed Khan, P Kaneshkk Naidu, Abhinav Kumar and Vishal Sharma.
While announcing his retirement from international cricket, the stylish batsman had indicated that he would continue to play for Hyderabad in the Ranji matches.
Laxman represented India in 134 Tests, scoring 8781 runs at 45.97. He made his debut against South Africa in the home series in 1996.
His greatest achievement was a 281 at Eden Gardens in Kolkata in 2001, against Australia, then the highest score by an Indian batsman in Tests.
Part of a record stand with Rahul Dravid, it set up a stunning victory for the home team after following on and ended Australia's consecutive 16-match winning streak.
Laxman last played an ODI in 2006 but had, by then, become a regular in the Test side and played his 100th Test in 2008, against Australia in Nagpur.
Laxman made six of his 17 Test centuries against Australia, with an average of 49.67 in 29 Tests and success both home and abroad.
Photograph: Shaun Botterill/Getty Images