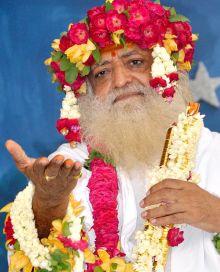 Gujarat police on Thursday filed the chargesheet against controversial godman Asaram in the rape case, on the complaint filed by a Surat-based woman.
Asaram already has a chargesheet filed against him in Jodhpur, Rajasthan, in another rape case.
The present chargesheet, filed in the court of Chief Judicial Magistrate J B Parikh here, is against Asaram, his wife Lakshmi, daughter Bharti and his four women followers -- Dhruvben, Nirmala, Jassi and Meera.
All of them are charged under sections 376 (rape), 342 (illegal confinement) and 120 B (criminal conspiracy) of the Indian Penal Code.
The magistrate would hear their applications seeking copies of the chargesheet on January 13.
Two Surat-based women, sisters, have accused Asaram and his son Narayan Sai of sexual exploitation. The accusations followed Asaram's arrest in Jodhpur case.
The elder sister has levelled allegations against Asaram, and the younger sister against his son. In Asaram's case, the complainant had accused him of sexual assaults between 1997 and 2006, when she was living in his ashram on the outskirts of Ahmedabad.
Asaram is presently lodged in a judicial custody in Jodhpur.