Fast bowling is not an easy task in India, and it has been proved in this year's Ranji Trophy too with the batsmen dominating proceedings so far.
But, interestingly, the top four wicket-takers out of five so far are pace bowlers, and all hail from the northern part of the country.
With winter setting in, the conditions are ideal for bowlers in places like Punjab and Himachal, and pacers like Sandeep Sharma, Siddarth Kaul and Rishi Dhawan have made the most of it.
- Ranji Trophy: Meet the five batting stars after Round 5
Left-arm spinner Shahbaz Nadeem is the lone non-pacer in the top five bowlers this Ranji season. A key performer for Jharkhand, which is looking to get out of Group C, he has 25 wickets.
A look at the top five bowlers: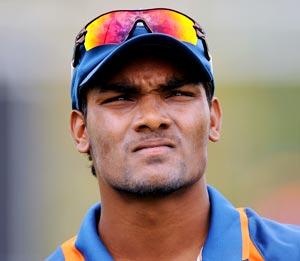 Sandeep Sharma: (Punjab)

Matches 5, Overs 176.3, Wickets 29, Avg 16.51, BBI 7-25, 5WI 2, 10WI 1

Sandeep Sharma is leading Punjab's charge with the ball. He has claimed 29 wickets from five matches, which has seen Punjab take a big lead in the points table in Group A after winning four out of five matches for a tally of 29 points, with Madhya Pradesh a distant second on 11.

- Top Test centurions from each nation

Sandeep was also part of India's Under-19 World Cup-winning squad earlier this year where he was the joint highest wicket-taker with 12 scalps. His good form continues in the domestic circuit.

The 19-year-old seamer made good use of the conditions at Mohali in the last two matches, claiming successive five-wicket hauls against Saurashtra (7-25 and 3-57) and Rajasthan (3-27 and 5-57) respectively.


Rishi Dhawan: (Himachal Pradesh)

Matches 5, Overs 264.4, Wickets 28, Avg 26.85, BBI 6-63, 5WI 2

Himachal Pradesh seamer Rishi Dhawan is also in

red hot form. The 22-year-old claimed two five-wicket hauls for an impressive tally of 28 wickets from the first five matches of the season.

Dhawan boasts of a good bowling record in first class cricket, with 88 wickets from 20 games, since making his debut three years ago.

Siddarth Kaul: (Punjab)

Matches 5, Overs 182.1, Wickets 27, Avg 20.85, BBI 6-63, 5WI 2

Siddarth Kaul comes from a family of cricketers, his father Tej and brother Uday having played first class cricket too.

The 22-year-old pace bowler from Punjab is in roaring form since the start of the season, bagging 27 wickets in five matches.

His best figures this year were the six for 63 he took against Saurashtra in Mohali when his brother Uday, who is the wicketkeeper, took three catches of his bowling.

Mohit Sharma: (Haryana)

Matches 4, Overs 134.4, Wickets 25, Avg 14.52, BBI 5-49, 5WI 2

Fast bowlers from the north of India have made most of bowling in helpful conditions at home to be among the wickets. Haryana pacer Mohit Sharma is another pacer who seems to have relished the early part of the season, claiming 25 wickets in four matches.

The 24-year-old made his first class debut last year and is a consistent performer for his state.

He claimed successive five-wicket hauls against Odisha (5-49) and Baroda (5-50) respectively, but his team is struggling this year, having suffered three defeats in four matches.

Shahbaz Nadeem: (Jharkhand)

Matches 4, Overs 201.3, Wickets 25, Avg 20.96, BBI 6-54, 5WI 2

Left-arm spinner Shahbaz Nadeem is the most successful spinner so far in this year's domestic cricket.

In four matches for Jharkhand, Nadeem, 23, returned a rich haul of 25 wickets, at an average of 20.96, including two five-wicket hauls.

Photograph: Matt Roberts/Getty Images