Middle-order batsman Sangram Atitkar hammered a listless Bengal attack into submission with a brilliant 168 as Maharashtra took a mammoth first innings lead to set sights on an innings victory by stumps on the second day of Ranji Trophy semi-final in Indore.
After their batsmen were bowled out for a paltry 114 -- their lowest score in the current season, the Bengal bowlers fared no better as Maharashtra scored an imposing 455 in their first innings.
After taking a massive 341-run lead, Maharashtra bowlers came out all guns blazing as they reduced Bengal to 16 for one in the five overs.
Bengal batsmen need another 326 runs to avoid innings defeat which looks imminent at the moment after left-arm seamer Samad Fallah again dismissed opener Koushik Ghosh (9), as Arindam Das (7 batting) remained at the other end.
In a single match, Bengal have scored their lowest total and conceded their highest runs, which is not a statistic that will please their fans.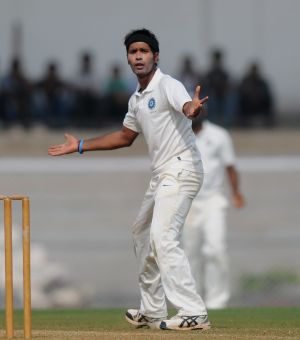 The Maharashtra batsmen led by Atitkar showed a lot of positive intent on the day as they took apart the Bengal bowling scoring their runs at a rate of above 3.5 runs per over which was fantastic by first-class standard.
After skipper Laxmi Ratan Shukla (3/76) dismissed his counterpart Rohit Motwani (8) with the team total reading 164 for five, Bengal bowlers suddenly lost grip of the match.
Atitkar, who smashed 29 boundaries in 228 balls joined forces with Ankit Bawne (89) as the duo slowly added 113 runs for the sixth wicket. With a lot of time at their disposal, they grinded the opposition into submission.
Dinda (3/114), who recently had threatened to quit Bengal for not getting a national call-up, looked one dimensional as he either bowled the fuller delivery or the short pitched stuff which was easily negotiated by the batsmen. With no distinct variations in his delivery, he was taken apart by Atitkar.
Inswing bowler Sourav Sarkar (2/105 in 27.3 overs) was almost ineffective after the ball became old as neither did he have pace to trouble the batsman nor variation.
Bawne was Dinda's third victim, caught by Sandipan Das but not before Maharashtra had stretched their lead to over 150. Akshay Darekar (10) didn't score too many but stayed alongside Atitkar, who attacked the Bengal bowlers with the duo putting up 51 runs in less than 14 overs.
Bengal bowlers failed miserably in cleaning up the tail as Anupam Sanklecha (52, 72 balls) blasted four sixes and an equal number of boundaries during a quickfire partnership of 103 runs with Atitkar, who had completed his fifth first-class century by that time.
Such was Shukla's helplessness that he had to use as many as eight bowlers including youngsters Abhimanyu Easwaran (0/27 in 3 overs) and Sandipan Das (0/16 in two overs) being taken apart for 43 runs in five overs.
With an uphill task of clearing the deficit, left-handed Ghosh got couple of boundaries before again edging one to Chirag Khurana in the slip cordon of the last delivery of the day. One can expect that Maharashtra will be able to finish off the match and reach their first final in 22 years.
Scoreboard
Bengal 1st innings: 114
Maharashtra 1st innings
H Khadiwale b Shukla 28
C Khurana c Saha b Dinda 48
V Zol lbw Shukla 1
K Jadhav c & b Dinda 40
A Bawne c Sandipan b Dinda 89
R Motwani lbw Shukla 8
S Atitkar b Paul 168
A Darekar c Sandipan b Sarkar 10
A Sanklecha c Saha b Sarkar 52
D Joseph b Paul 4
S Fallah not out 4
Extras (b-1, nb-2) 3
Total (all out; 126.3 overs) 455 (3.59 runs per over)
Fall of wickets: 1-78, 2-78, 3-91, 4-141, 5-164, 6-277, 7-328, 8-431, 9-437.
Bowling: Dinda 30-7-114-3, Sarkar 27.3-6-105-2, Shukla 27-4-76-3, Paul 19-5-54-2, Lahiri 11-1-48-0, Sandipan 2-0-16-0, Ghosh 7-2-14-0, Easwaran 3-0-27-0.
Bengal 2nd innings
K Ghosh c Khurana b Fallah 9
A Das batting 7
Total (For 1 wicket; 4.5 overs) 16
Fall of wickets: 1-16
Bowling: Fallah 2.5-0-7-1, Sanklecha 1-0-8-0, Joseph 1-0-1-0.