Friends and well-wishers of Indian cricket team captain Mahendra Singh Dhoni brough in his birthday in his absence but with much fanfare as the cricketer turned 31 on Saturday.
Dhoni is out of Ranchi along with his wife, said one of his close friends.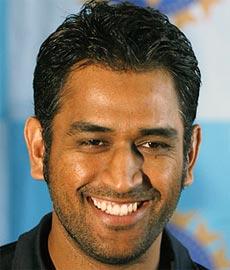 Wishing Dhoni, his one time club coach Chanchal Bhattacharya said, "My wish has always been to see Dhoni holding aloft cups. Let his team win all future championships and all-version series."
Bhattacharya said Dhoni's parents and other members of the family celebrated his birthday at home.
The Kaya, a salon where Dhoni usually drops in to have a hair cut when in town, also celebrated his birthday by cutting a cake.
"We have been celebrating Dhoni's birthday for the last few years, and today about 20 students gathered at the institute, cut a cake and distributed sweets to mark the day," said the Director of Indus Fashion Academy M S Hussain.
Musician Raj Kumar Pathak, a keen follower of Dhoni, said he was composing a song for the cricketer.
Dhoni made his debut in 2004. He has played 67 Tests, 206 ODIs and scored 3,509 and 6,773 runs respectively. He scripted the World Cup victory after 28 years, besides lifting the first T20- World championship.