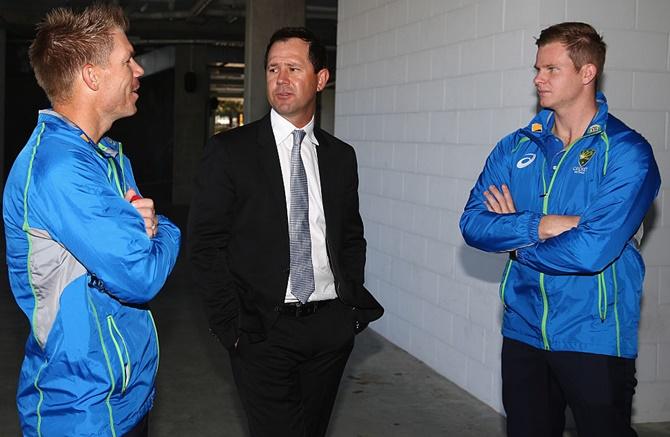 IMAGE: Ricky Ponting, centre, speaks with David Warner, left, and Steve Smith of Australia. Photograph: Robert Cianflone/Getty Images.
Former Australia captain Ricky Ponting says England's only hope of winning a Test in the upcoming Ashes series is the day/night match in Adelaide and has predicted a 4-0 victory for the hosts.
Ponting savaged England's batting order and said the absence of all-rounder Ben Stokes, along with injuries to their fast bowling stocks, would play into Australia's hands.
His comments come after fierce criticism of the Australia batting line-up from former England greats Ian Botham and Graeme Swann.
"I've been a bit more outward than normal about this one because I honestly think that Australia will win really easily," Ponting, who captained Australia in 77 Tests, told Cricket Australia's website.
"If you look through the current England team, they're searching for an opener, they're searching for a number three, Stokes might not be there, a couple of their quicks have gone down."
"I just think right now England have got more gaps and more cause for concern in not only in their 11 but in their entire squad, than what Australia have."
England seamer Jake Ball is likely to miss the tourists' final warmup ahead of the first Ashes Test, beginning on Nov. 23 in Brisbane, after suffering an ankle ligament strain in the tour match at Adelaide Oval.
Their pace bowling stocks took a hit earlier this week when Steven Finn was ruled out of the tour with a knee injury and replaced by Tom Curran.
Ponting said England fast bowlers James Anderson and Stuart Broad were on a "steady decline" but maintaining a "reasonably high" level of performance, while Australia boasted a flourishing bowling line-up. The 42-year-old said England's only chance of winning a match was the second Test in Adelaide.
England won the last Ashes 3-2 on home soil but were humiliated 5-0 the last time they came to Australia for the series in 2013/14.
Lyon backs struggling Renshaw
Australia opening batsman Matt Renshaw's horror run in the domestic Sheffield Shield has raised speculation that his Ashes berth may be in danger but team mate Nathan Lyon said the left-hander had the backing of the "inner sanctum".
Renshaw has compiled just 70 runs in six innings for Queensland in the first class competition and has failed to score a half-century in his previous nine Test innings.
Selectors will name Australia's Ashes squad on Friday, with the first Test against holders England starting in Brisbane next week.
Renshaw enjoyed a fine home summer after making his debut against South Africa in Adelaide last year and has averaged 36.64 from his 10 tests.
However, while opening partner David Warner implored the 21-year-old to score more runs earlier this week, off-spinner Lyon stopped short of confirming Renshaw's selection in the squad but said the batsman had internal support.
"Playing for Australia, you are going to come under scrutiny from the media and the public," Lyon told reporters.
"But if you are in the inner sanctum and have the support - which he does - then you can usually get out of that head space and perform well."
"The media can write what they want, the public can think what they want but, if you have positive energy around the team - which there is already - I know there will be support for everyone (in the Test team)."
Renshaw scored 184 against Pakistan in his last home Test in Sydney in January and is highly regarded for his ability to bat for long periods of time.
Although dismissed for 16 and one in the ongoing Shield match against New South Wales in Brisbane, Renshaw was taken for a nets session against Australia's Test fast bowlers.
"I am not a selector but I am a big fan of Matt - he is a class batsman," Lyon added. "But there are going to be times in this series when everyone is going to be placed under pressure - it is how you bounce back."