England spin bowler Graeme Swann has admitted that some of the Ashes winning heroes may have urinated on The Oval pitch during late night celebrations to 'answer a call of nature'.
According to Sport24, three England players, swing-bowler James Anderson, batsman Kevin Pietersen and fast bowler Stuart Broad, were reportedly seen relieving themselves on the pitch as the players held a private midnight party on the famous turf.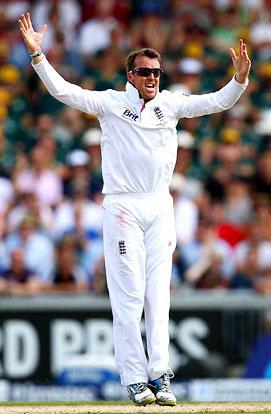 Stating that his teammates may have felt an urgent need to go to the loo, Swann however, backed his teammates, saying that as it was midnight and the ground was dark with a private celebration in the middle of the pitch, they did not think that they would be noticed.
Dismissing the incident as 'nothing untoward', Swann further said that they were just enjoying each other's company in the middle of the pitch by drinking beers and singing a few songs.
Regretful ECB not to take any public action against 'urinating' Ashes heroes
Meanwhile, the England and Wales Cricket Board (ECB) will reportedly take no public action against England's urinating Ashes heroes, although they have expressed regret over the incident.
Late on Sunday night, several members of the England team, including star batsman Kevin Pietersen and bowlers Stuart Broad and James Anderson, were spotted urinating over the pitch at The Oval they had just played on, taking their celebrations to new levels
According to the Mirror, however, the ECB will let England coach Andy Flower to deal with the situation behind closed doors, adding that although Flower will not want to deter his players from celebrating big series wins like this in the usual manner, but he will have a quiet word and remind them of their responsibilities as England players.
The report further said that it is not the first time that England players have indulged in the same sort of alcohol-fuelled fun, with the Ashes winning squad of 2005 doing the same at the Prime Minister's garden at 10 Downing Street, which was, however, laughed off at that time.
The players' actions let to a lot of criticism on Twitter, with one person tweeting that the action cannot be condoned as his father's ashes are scattered over the Oval pitch.