Former Indian captain Kapil Dev has joined the club versus country debate in the wake of Gautam Gambhir injury controversy, saying that the cricketers have the right to choose whether to play for the national team or for cash-rich IPL.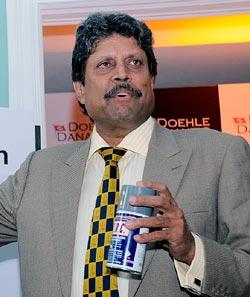 Kapil said just like any individual of the country, the cricketers have also the right to choose whether to play for the country or for the clubs. 
"Everybody has the right to choose whether they want to play for the country or for their club. I loved to play for my country and I did it. But, things have changed now and life has changed. You cannot control anybody's life at this age. Whatever anybody wants to do he should be allowed to do," Kapil said when asked about the raging debate. 
Top Indian cricketers like Sachin Tendulkar, Gambhir, Yuvraj Singh and Virender Sehwag will be missing the West Indies tour due to injury or pulling themselves out and this has kicked up the country versus club debate that the cricketers have started to prefer IPL over playing for national team. 
Asked if there was too much cricket being played these days and how much rest a cricketer needs, Kapil said, "Ask this to the cricketers, they are playing in these times. So they will be in a better position to answer." 
"I really don't know. For some it's too less cricket while for some it's too much cricket. During our days, cricket was played for about four to six months in a year. Nowadays, they are playing cricket about 10 months. So it's not fair to make a comparison," said the 1983 World Cup winning captain at the sidelines of a mobile phone launch here. 
Kapil said he was happy with the Cricket Board's invitation for the felicitation of 2011 World Cup winning team on May 31 in Mumbai, indicating that his bitter stand-off with BCCI was over. 
"It's time to celebrate (for the World Cup triumph). The Indian team belongs to everybody. It really feels great to have been invited," he said. He said Mahendra Singh Dhoni and Co. have the most balanced side in the world and are capable of winning 10 more World Cups. 
"They are far better than us in all aspects. In Sachin Tendulkar, Virender Sehwag, Mahendra Singh Dhoni, Gautam Gambhir, Harbhajan Singh and Zaheer Khan we have got a great side who are capable of winning the World Cup 10 times.
"It indeed feels great (on India's World Cup triumph). Jab bachche baap se aagey nikal jate hain bahut khushi hoti hai. (It's a proud moment when your children get success and go ahead of you). Like a big brother we are proud of their achievement," he said. 
Kapil was not invited by BCCI for India's World Cup final against Sri Lanka at Wankhede Stadium in Mumbai On April 2 but he said there was nothing to be offended about it. 
"Did (Mohammad) Azharuddin, Sunil Gavaskar, Ravi Shastri, Bishen Singh Bedi, S Venkataraghavan among others get the invitation for the World Cup function? Then, why ask me? 
"All former captains are doing their respective work, why involve them in controversy. That's their organisation, it depends on them whom to invite or not," he said.