The Pakistan Cricket Board has been told by its governing board to strongly oppose the changes proposed by India, Australia and England cricket boards in the governance and distribution of finances in the ICC.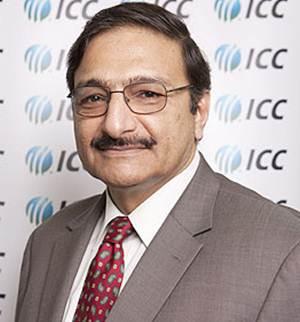 PCB chief Zaka Ashraf said after the meeting of the governing board that the members had been given a detailed presentation about the proposed changes and they were clear about the line of action to be adopted by Pakistan at the next International Cricket Council meeting in Singapore on February 8.
"The members have also suggested to meet with the Prime Minister, who is the chief patron of the PCB and brief him on the issues and seek his advice," Ashraf said.
"There has been some softening in the stance of the Indian, Australian and English boards on the proposed draft paper but obviously we will only take decisions which are in best interest of Pakistan cricket," he added.
He said Pakistan would not waver from its principal stance on the proposed revamp of world cricket.
Interestingly, four leading members of the governing board, including former Test spinner Iqbal Qasim didn't attend the meeting in Lahore.
"What I want to say is that Pakistan's interests would not be compromised," Ashraf said.
Pakistan, along with Sri Lanka and South Africa, sought time to consider the radical changes to the ICC proposed by the 'Big Three' at the ICC meeting in Dubai last month.
Moves to restructure the ICC to hand power to India, Australia and England, the game's financial powerhouses, were, however, passed in principle during a board meeting on January 28.
Some of the changes already agreed in principle are:
(a) An opportunity for all member countries to win the right to play Tests, "with participation based on meritocracy", according to the ICC.
b) A Test cricket fund will make money available annually to the other seven Test countries outside the big three: Pakistan, South Africa, Sri Lanka, West Indies, New Zealand, Bangladesh and Zimbabwe. This would be introduced to "encourage and support Test match cricket," the ICC said, with the game's flagship format struggling to make money away from the big three.
c) Bilateral agreements for Test series could come into effect from 2015, a move away from the ICC-controlled Future Tours Program which ensured big teams had to play series against smaller teams at some point in the rotation. Bilateral agreements would give India, England and Australia more scope to pick and choose who and when they play.
d) The ICC said the powerful and rich Indian board would take "a central leadership responsibility".
e) The new five-member executive committee made up a representative from the BCCI, the ECB, CA and two other members. For two years from June, the BCCI would chair the ICC board, CA would chair the executive committee and the ECB would chair the influential finance and commercial affairs committee while the governing body undergoes a "transitional period".