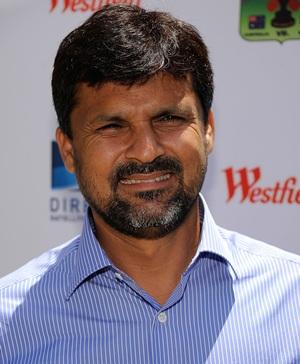 The Pakistan Cricket Board, in a surprising move on Monday, entrusted former captain Moin Khan the dual responsibility of chief selector and managing the national team.
Since being inducted into the PCB last year, Moin was Pakistan's head coach for two months, during the Asia Cup and World T20.
After the national team failed to reach the semi-finals of the World T20, the board announced that his contract would not be extended, but it did u-turn with Monday's announcement.
In addition, the board also named former Test captain Zaheer Abbas principal advisor to PCB chairman Najam Sethi.
Zaheer was senior cricket consultant of the team for the Asia Cup and World T20 and unhappy when told that his contract would not be extended.
The PCB also announced that it had set up a committee to scrutinise and evaluate applications for various cricketing positions advertised recently, including head coach, fielding coach, batting coach, spin consultant, trainer, physiotherapist etc.
The committee comprises Moin Khan, Intikhab Alam (Director Domestic Cricket) and Haroon Rashid (Director Game Development).
The committee will make its recommendations to the PCB chairman after the May 5 cut-off date.
Image: Moin Khan
Photograph: Getty Images