Pakistan captain Misbah-ul-Haq shared a top-class rearguard partnership with Azhar Alias to help salvage a draw against South Africa in the second test as the series ended in stalemate on Wednesday.
Pakistan had slipped to a shaky 66 for three straight after lunch at the Sheikh Zayed Stadium thanks to a devastating burst of three wickets for no runs in seven balls by spinners Paul Harris and Johan Botha.
However, Misbah and Azhar survived for the next 45.2 overs and added 87 for the fourth wicket to ensure the series ended 0-0 after the first test was drawn in Dubai.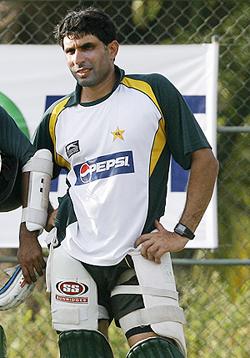 Misbah provided strong late resistance with his defiant 58 not out off 140 balls while Azhar was obstinance personified with a stubborn 28 not out from 135 deliveries.
Pakistan wriggled off the hook after Botha trapped Taufeeq Umar, playing for turn, lbw for 30 in the second over after lunch with a delivery that just went straight on with the arm.
Paul Harris then struck twice in the next over, winning lbw decisions against Mohammad Hafeez (34) and Younis Khan (0), with both batsmen also falling to arm-balls.
HARD PITCH
Misbah, who scored 77 in the first innings after his 76 not out helped save the first test in Dubai, struck 10 boundaries, carrying the fight to the bowlers who were neutralised by a hard pitch that did not deteriorate to any great extent.
Pakistan were left with 82 overs to survive after South Africa strangely delayed their declaration until half-an-hour into the final day, scoring 203 for five in their second innings to lead by 353.
Pakistan, who had survived for 117 overs to draw the first test, had no difficulty at the start of their innings as opening batsmen Hafeez and Taufeeq took them safely through to lunch on 66 without loss before Harris and Botha rocked the innings.
South Africa, who led by 150 runs on first innings, batted on for six overs in the morning, Umar Gul bowling Mark Boucher for 15, before Ashwell Prince (47 not out) and Botha (seven not out) carried South Africa through to the declaration.
But the visitors, after reaching 113 for one after 21 overs on the fourth afternoon, added just 90 more runs in 34 overs, killing off their chances of winning the test and the series.
SCOREBOARD
South Africa first innings: 584 for nine (declared)
Pakistan first innings: 434
South Africa second innings: 203 for five (declared)
Pakistan second innings (target 354)
M Hafeez lbw b Harris 34
T Umar lbw b Botha 30
A Ali not out 28
Younis lbw b Harris 0
Misbah-ul-Haq not out 58
Extras (lb-2, nb-1) 3
Total: (three wickets; 67 overs) 153
Fall of wickets: 1-66, 2-66, 3-66
Bowling: Steyn 13-2-40-0, Morkel 11-3-29-0, Harris 23-14-28-2, Kallis 2-0-13-0 (1-w), Botha 17-4-40-1, Petersen 1-0-1-0.