Seven-time Tour de France champion Lance Armstrong's great fall from the grace is not enough for India all-rounder Yuvraj Singh to change his opinion about the American cyclist who had been slapped with a ban for use of performance-enhancing drugs.
 Exclusive interview: Yuvraj Singh
"I've read everything that has come out on him. I sent him a New Year message saying that he would always be my hero no matter what the world says.
- Go Yuvi!! Livestrong, Armstrong tells Yuvraj
"Coming back from cancer and achieving so much makes him great. He is an idol. You see super heroes in fiction, he's a real life hero," Yuvraj, who also survived cancer after undergoing three cycles of chemotherapy, said in Kolkata on Wednesday.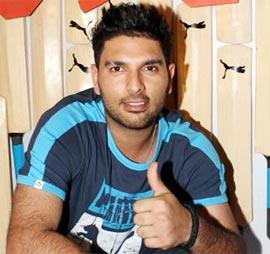 Armstrong was stripped of his seven Tour titles last year and lost most of his sponsors after the US Anti-Doping Agency said he had been at the front of a systematic doping program.
Yuvraj, meanwhile, said he always looks up to Sachin Tendulkar as an elder brother and his retirement from One-Day Internationals has made him very sad.
"Personally, it's a very sad thing for me that he would not be there in the ODI dressing room. Certainly a great player has gone from ODIs. I will personally miss him a lot.
"There is no point talking about his records. If we do so, it will take at least a year to complete. He was someone whom I looked up to as an elder brother," he said.
Asked to describe the year 2011 when India lifted the ODI World Cup and then he was diagnosed with cancer between his lungs, the left-hander said, "2011 was a crucial year for Indian cricket as we won the World Cup.
"It was an unpredictable year...on one hand, there was the joy of winning World Cup and on the other hand, being diagnosed with cancer. It was difficult to come out...I am proud that I've done it," said Yuvraj, who was also named the player of the tournament of World Cup 2011.
Yuvraj said that 2013 would a crucial year for him and he will look to improve his performances following his comeback to the Indian team late last year.
"2013 will be an interesting year. It will prove whether I can perform the way I used to. I hope to better my performance. I worked very hard to come out of the phase."
On the sidelines of the launch of a highly equipped mobile cancer screening van, Yuvraj said, "The primary aim is to detect 1000 (cancer patients). It's about pushing people to know more about cancer and its early diagnosis.
"There is a need for awareness in Eastern India. I've something to do to spread cancer awareness. It's a huge step forward."
When asked if he has fears of cancer relapsing, Yuvraj said, "Why are you scaring me? This is New Year. As a survivor, I never think of relapse. It's the last thing on my mind."
Photograph: Hitesh Harisinghani