Pakistan wicketkeeper Adnan Akmal took five catches as New Zealand's top order failed to capitalise on sound starts and battled to 246 for six at the close of play on the first day of the second Test at a windswept Basin Reserve on Saturday.
The hosts' wicketkeeper Reece Young, playing his second Test match, was on 28 and captain Daniel Vettori on 38 having forged an unbroken 66-run partnership that ensured the visitors had not taken total control of the match.
Strong northerly winds, with gusts in excess of 80kph, played havoc with the Pakistani bowlers, who were forced on several occasions to pull out of their approach to the wicket as they were blown off course.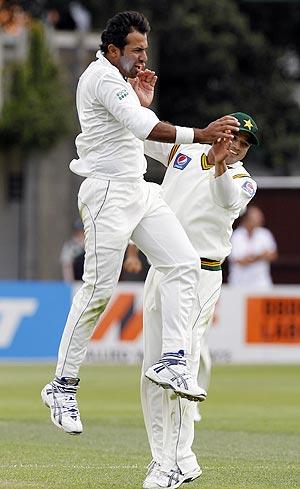 Ross Taylor was the standout in the New Zealand innings, ending a barren run to notch his 11th Test half century, before he was dismissed for 78 just when it appeared his sixth Test century was on offer.
The 26-year-old's previous eight innings had brought a total of just 172 runs at an average of 21.5 with one score in excess of 50. Saturday's innings was his best Test score since he scored a century against Australia last year.
Taylor shared in a 68-run fifth-wicket partnership with James Franklin before both fell in short order in the final session.
Franklin had battled to 33 before he tickled an Abdul Rehman leg-side delivery to Akmal that broke the promising partnership and left New Zealand floundering at 166 for five.
Taylor followed with the score on 180 when he slashed at a full, wide delivery from Wahab Riaz, which was his first of a new spell, and Akmal took a diving catch to his right.
The pair had been forced to resurrect New Zealand's innings after an all too familiar mini-collapse had threatened to totally derail their innings after lunch.
New Zealand had been comfortably placed at 98 for two then Martin Guptill (29), who had left the majority of wide deliveries go through to Akmal, had a rash swipe at a wide Tanvir Ahmed ball that only caught the edge of his bat to carry through to the wicketkeeper.
Jesse Ryder then followed when he nicked to Akmal on the next ball. It was Ryder's second successive golden duck after he was dismissed first ball in New Zealand's second innings in the 10-wicket loss in the first Test in Hamilton.
Tanvir was unable to achieve the hat-trick, however, when Franklin kept out a full, swinging delivery and he and Taylor set about trying to rebuild the New Zealand innings.
New Zealand had chosen to bat after Vettori won the toss to make first use of a good pitch on a sun-drenched day.
The hosts, however, began disastrously with Brendon McCullum given out lbw to Umar Gul on the final ball of the first over for two.
Kane Williamson was the only other wicket to fall in the first session and had looked comfortable moving to 21 before he was caught by Akmal off Gul.
Pakistan lead the two match series 1-0.
Scoreboard:
New Zealand first innings:
M Guptill c Akmal b Tanvir 29     
B McCullum lbw b Gul 2
K Williamson c Akmal b Gul 21
R Taylor c Akmal b Wahab 78
J Ryder c Akmal b Tanvir 0
J Franklin c Akmal b Rehman 33
R Young not out 28
D Vettori not out 38
Extras: (w-9, b-7, nb-1) 17
Total: (for six wickets, 90 overs) 246                  
Fall of wickets: 1-3, 2-46, 3-98, 4-98, 5-166, 6-180
Still to bat: Tim Southee, Brent Arnel, Chris Martin
Bowling: Gul 21-2-53-2, Tanvir 17-5-63-2 (w-2), Younus 1-0-9-0, Wahab 16-3-46-1 (w-3), Rehman 29-9-53-1 (nb-1), Hafeez 6-0-15-0.