New Zealand were left with an improbable task to save the match after India declared on a mammoth 566 for eight in their first innings on day three of the third and final Test at the Vidarbha Cricket Association stadium in Jamtha, Nagpur on Monday.
At stumps on the third day, New Zealand were 23 for one in 11 overs in their second innings, still needing another 349 runs to avoid an innings defeat.
Brendon McCullum, back to opening the innings, was unbeaten on 14 and Gareth Hopkins was not out on one. Harbhajan Singh claimed the only Kiwi wicket to fall in the session when he trapped Tim McIntosh leg before wicket for eight.
Earlier, India left New Zealand with an impossible task to save the match as they took a huge first innings lead of 373 runs after they posted 566 for eight declared, courtesy of Rahul Dravid's patient knock of 191 after captain Mahendra Singh Dhoni (98) fell agonizingly short of his hundred.
Dravid's marathon knock stretched 573 minutes as he hit 21 boundaries in 396 balls, before he holed out at long-on off part-time spinner Kane Williamson. Dhoni and Dravid played a huge role in stretching India's lead as the duo added 193 runs in 54.3 overs for the sixth wicket. Dhoni, who was struggling with cramps, was caught and bowled by Daniel Vettori for 98, laced with 12 fours and a six in his 156-ball knock.
New Zealand started the day well with three quick wickets, including overnight batsman Sachin Tendulkar, was caught behind for 61 off 129 balls off debutant Andy McKay. VVS Laxman (12) was beaten all ends up by a full incoming delivery from Chris Martin, while Suresh Raina caught at short leg off Daniel Vettori for three.
On Sunday, the top order fired in unison after Ishant Sharma's fiery spell with the ball to put India in control. At stumps on the second day, India were sitting pretty on 292 for two in 82 overs in reply to New Zealand's first innings score of 193.
Virender Sehwag had given India a flying start as he slammed 74 from 73 deliveries, while Gautam Gambhir played a fine innings of 78 from 127 balls, as the two openers provided Indai with the perfect platform adding 113 runs in 139 balls for the opening wicket.
India pacer Ishant Sharma took four wickets to help bowl out New Zealand for 193 in 66.3 overs in their first innings.
The first two Tests in Ahmedabad and Hyderabad ended in high scoring draws.
Morning session: (94 runs, 33 overs, 3 wickets)
India were dealt a big blow in the second over of the day, when Tendulkar was dismissed for 61 after having added just four runs to his overnight score. The veteran batsman was beaten all ends up by debutant Andy McKay, who got one to bounce sharply and leave the batsman to take the outside edge.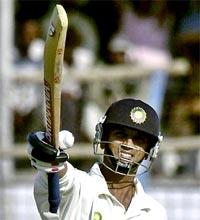 Tendulkar, who batted patiently as he hit just eight boundaries in his 129-ball knock, added 104 runs in 39.2 overs for the third wicket with Dravid.
It was McKay's first wicket in Test cricket and he could not have asked for a bigger one.
The Kiwis also tried to pepper VVS Laxman with short deliveries at the start of his innings. He left a few short deliveries before pulling one over midwicket for a boundary and take India past the 300-run mark. In the same over, he drove McKay for a delightful four through the cover region.
Dravid took 19 deliveries to score his first runs on the third day as he continued batting patiently.
Laxman perished cheaply when he was beaten by a full incoming delivery from Martin and was bowled for 12.
But Dravid was unfazed as he continued to play in the same vein, batting patiently and waiting for the loose deliveries. The right-hander moved into the 80s when he flicked a full delivery from Tim Southee through midwicket for a four and in the next over pulled a short delivery from McKay through the square leg region for another boundary.
However, New Zealand kept fighting back with regular wickets. Captain Daniel Vettori got a wicket with his first delivery of the day when he had Suresh Raina caught at short leg for three.
The young left-hander has endured a poor series with the bat, having scored 26 runs in four innings at an average of 6.50.
Mahendra Singh Dhoni adopted a positive approach as he slammed McKay for a hat-trick of boundaries as India looked to get a move along. He then got another boundary off Southee in the next over as the hosts reached 354 for five in 101 overs to stretch their lead to 161 runs.
The Indian captain then pulled a short delivery from his Kiwi counterpart Vettori to the midwicket fence for his fifth boundary of the innings.
While Dravid was content to play out the overs and inch slowly towards his century, Dhoni was looking for the boundaries. He opened the face of the bat and guided Southee through the gap between the wide first slip fielder and the wicketkeeper for a four.
Having batted patiently through his innings, Dravid zipped through the 90s. He cut a short delivery from Vettori that went wide of the first slip fielder for a boundary to move to 98. A few deliveries later, he tucked Vettori on the leg side to pick up two runs and complete his century from 256 balls.
India defended the last few overs before lunch to end the session on 386 for five in 115 overs for a lead of 193 runs.
Dravid was unbeaten on 105 from 273 balls, while Dhoni hit a brisk 35 from 48 balls with the two batsmen having put on 58 runs for the sixth wicket.
New Zealand did manage to keep the Indians in check somewhat by claiming three wickets. McKay (1 for 82) once again impressed as he bowled a good probing length and was deservedly rewarded with the wicket of Tendulkar, while Vettori claimed two for 122 in 40 overs.
Post lunch session: (124 runs, 30 overs)
Dhoni got the first boundary of the session when he played the paddle sweep against Kane Williamson in the second over after the break. The Indian captain (42) got a reprieve when he was dropped by McIntosh running back at mid-off as he tried to loft Vettori down the ground.
In Vettori's next over, Dhoni got a thick outside edge which went between the first slip and wicketkeeper to get a boundary and complete his half-century from 66 balls.
This was Dhoni's first half-century in eight innings after the 76 he made against Sri Lanka at SSC in July this year.
Dravid's first boundary of the session was a magnificent drive through the covers as Martin erred with his length and gifted an easy half volley.
Dhoni punished a short delivery from Vettori through point for a four, while Dravid bagged another couple of fours in the next over from McKay as India made their intent clear.
India captain Dhoni then went after the inexperienced McKay, clobbering him for a straight six followed by a boundary in that same over, in the 131st over.
Dravid brought up his 150 off 338 balls in some style when he cut a wide delivery from McKay past the fielder in the gully region.
At the other end, Dhoni kept finding the boundaries quite regularly. He drove a full toss from Williamson through the covers for a four and then lofted Southee over mid-on for another boundary in the next over.
The right-hander used his wrists to good effect as he guided Southee through the point region for a boundary to move into the 90s and stretch the Indian lead beyond the 300-run mark, in the 139th over.
At the tea break, India were in total control as they reached 510 for five in 145 overs for a lead of 317 runs.
Dravid was unbeaten on 166 from 364 balls, while at the other end, Dhoni made 95 from 137 balls, as the duo added 182 runs in 299 balls for the sixth wicket.
Vettori tried his best to keep the scoring down but he found it difficult to contain the batsmen, taking two for 155 in 50 overs, but McKay impressed with one for 111 in 29 overs.
Post tea session: (80 runs, 31 overs, 4 wickets)
Dhoni was clearly struggling with cramps after the break and he called on Suresh Raina as the runner. He survived a close shout for leg before wicket when he charged down the wicket to Southee and tried to whack him on the leg side but missed.
Dhoni struggled to get the runs after the break as New Zealand made him stretch by pitching the ball up. He was dismissed trying to drive a full delivery when he offered a simple catch back to the bowler Vettori.
The Indian captain was dismissed for 98, having hit 12 fours and a six, in his 256-ball knock. His sixth wicket partnership with Dravid yielded 193 runs in 54.3 overs to extend India's lead.
Dravid inched closer to the double century when he hit Southee for a couple of boundaries, in the 153rd over.
Just when it looked that Dravid would cruise to a deserved double century, the right-hander lost his concentration and threw his wicket away. The veteran batsman charged down the wicket to part-timer Williamson but ended up holing out the fielder on the long-on boundary.
Dravid was dismissed after a patient innings of 191 that stretched 573 minutes at the crease and included 21 boundaries in 396 balls.
Harbhajan Singh, fresh from back to back centuries in the first two matches, started off cautiously. He spent a few overs in the middle getting used to the track before he danced down the wicket to Vettori and lofted him down the ground for a six.
India reached 551 for seven in 60 overs before New Zealand took the second new ball and brought on the pacers. Despite having a sizeable lead, India were content to play the waiting and both Harbhajan and Ishant were content to play the ball on merit instead of attacking the bowlers.
Harbhajan (20) tried to break the shackles as he jumped down the wicket to Martin but ended up holing out a simple catch to the cover fielder.
India declared their first innings on 566 for eight in 165 overs for a sizeable lead of 373 runs, with 13 overs left in the day and two more days remaining.
Vettori toiled hard during the Indian innings, bowling 58 overs for returns of three for 178, while McKay took one for 120 in 31 overs and Chris Martin took two for 82.
(New Zealand 2nd innings)
S Sreesanth induced an outside edge off Brendon McCullum's bat in the very first over, but luckily for the batsman it flew in the gap between the slips and gully for a boundary.
The pacers bowled a couple of overs each before Dhoni introduced spin twins Ojha and Harbhajan into the attack, looking for a wicket or two before the close of play.
Harbhajan claimed the first wicket to fall, when he trapped Tim McIntosh leg before wicket for eight with a quicker delivery that skidded on.
At stumps on the third day, New Zealand were 24 for one in 11 overs, still needing another 349 runs to avoid an innings defeat.
The pitch is offering a lot of assistance to the spinners and India would be hoping to cause maximum damage on day four and inch closer to a series victory.