A resolute effort from Jesse Ryder [ Images ] (103) and debutant Kane Williamson [ Images ] (87 not out) helped New Zealand [ Images ] put up a solid reply to India's [ Images ] formidable first innings total on the third day of the opening Test in Motera on Saturday.
At stumps on day three (after 117.3 overs), the visitors had made 331 for five, still 156 runs adrift of the home team's total but with five wickets to spare.
In the process Ryder notched up his third Test century, all of them coming against India.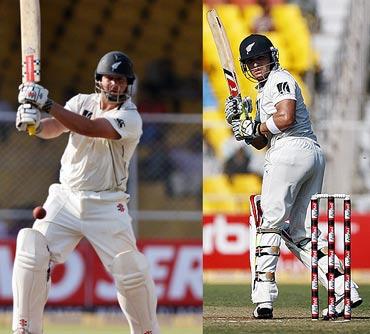 The boundary (off Sreesanth [ Images ]) that got him to his three-figures also ensured the completion of his 1, 000 Test runs. Ryder thereby became the third-quickest Kiwi - after John Reid and Mark Richardson - to reach 1, 000 Test runs.
However, his dismissal off the day's final delivery (leg before to Sreesanth) helped India come back into the game. Ryder's 205-ball knock was inclusive of 10 hits to the fence and one over it.
Coming together with New Zealand precariously-placed at 137 for four, Ryder and Williamson had put on a record 194 runs for the fifth wicket, a partnership that not only helped their side avoid follow-on but also have a realistic chance of having a go at India's total (read take the lead).
Given not even an outside chance ahead of the series, New Zealand have dominated two of the first three days at Motera, thereby proving again that one shouldn't reach much into India's top ranking.
It is still time before the Indian fans can actually see their team dominating world cricket.
Earlier, in the day's opening session India struck twice in quick time before lunch to wrest back the initiative after some fine batting from New Zealand early on.
Brendon McCullum [ Images ] (65) and Ross Taylor [ Images ] (56) helped New Zealand defy India in the morning session before departing in quick succession.
The duo put on a 106-run partnership for the third wicket and gave the New Zealand innings the solidity it so desperately required.
Taylor left just when things were beginning to look tough for the hosts. And McCullum left soon after.
The second session though was a productive one for the visitors - they scored 89 runs in it - and a frustrating one for the hosts - who failed to take a single wicket.
And India's frustration continued in the final session as well, with their bowlers failing to make any sort of impact.
Morning session: (79 runs, 28 overs, 2 wickets)
New Zealand expectedly began on a cautious note, McCullum and Taylor adding a run apiece in Sreesanth's first over.
The day's fourth over, bowled by Zaheer (his second of the day) was the first eventful one of the day.
Taylor first hit to deep point for a couple, runs that ensured the 50-run partnership for the third wicket, and then survived a loud appeal (for caught behind) in the next ball.
Television replays vindicated the umpire Steve Davis' decision - the ball had brushed off Taylor's thigh pads en route to the keeper.
In the next over, McCullum flashed his bat hard at an away going delivery from Sreesanth, a momentary lapse of concentration but the shot going wide of gully to earn the visitors their first boundary of the day.
Another boundary off Sreesanth, on this occasion a confident shot between mid-off and extra cover, ensured McCullum his second boundary of the day and got him to 49.
Two balls later, he took a single to sweeper cover to complete his 17th Test fifty.
Ojha was introduced into the attack in the day's ninth over. However, the visitors scored eight off his opening over, raching the 100-run mark en route.
Harbhajan replaced Ojha two overs later but the results was almost similar. The off-spinner gave away nine runs in his opening over, with Taylor helping himself to successive boundaries.
Another boundary off Harbhajan, this time a cut that beat the deep point fielder, not only helped Taylor complete his 10th Test fifty but also helped bring on the 100-run partnership for the third wicket.
However, he departed soon after, hitting a Harbhajan delivery straight to VVS Laxman [ Images ] at short midwicket.
The simple dismissal was probably Taylor's Diwali [ Images ] gift to Harbhajan. Taylor's 124-ball 56 was inclusive of six hits to the fence.
Soon after, Ojha had McCullum stumped to put the visitors back in trouble.
McCullum's 122-ball 65 was inclusive of 11 hits to the fence.
Ryder and Williamson, however, ensured there was no further damage before lunch.
After 56 overs (at lunch), the visitors had made 148 for four.
Post-lunch session: (89 runs, 26 overs, 0 wicket)
Williamson hit the first ball after lunch (by Harbhajan) past cover and to the fence, a shot that not only got him his first boundary but also helped his team cross the 150-run mark.
Rahul Dravid [ Images ] put down what would have been his 199th catch when he dropped Ryder (then on 11) at slips off Sreesanth. The ball found its way to the fence, Ryder's first.
Three balls later, the Kiwi lefthander celebrated the reprieve with his second boundary, on this occasion a confident shot through covers.
The duo slowly but steadily began rebuilding the innings, a Williamson single off Raina helping raise the 50-run partnership for the fifth wicket.
Ryder got himself a runner (in Taylor) but continued playing aggressive nonetheless.
Having tried Suresh Raina [ Images ] and Virender Sehwag [ Images ] sans success, MS Dhoni [ Images ] handed the ball to Sachin Tendulkar [ Images ] in a bid to get that elusive breakthrough.
Not that it helped matters.
Ryder soon reached his fifth Test half century with a boundary off Tendulkar.
And Williamson brought in the 100-run partnership with a single off Sreesanth.
The visitors had dominated the second session completely, scoring at a faster rate and frustrating the Indian bowlers to the hilt.
After 82 overs (at tea), the visitors had made 237 for four.
At tea, Jesse Ryder was unbeaten on 53 and giving him company was debutant Kane Williamson on 45.
Post-tea session: (94 runs, 35.3 overs, 1 wicket)
Williamson reached his half century soon after tea with a couple off Harbhajan.
The 20-year-old thereby became the 24th New Zealand player to score a fifty on Test debut and the fourth from his country to do so against India.
The hosts, having taken the new ball two overs before tea, had failed to make early utilisation of the same.
Ryder continued his aggression with a boundary each of Zaheer and Ojha, both over the midwicket.
However, Williamson (@ 56) was fortunate to survive a loud appeal for caught behind from Zaheer, umpire Kumar Dharmasena ruling in his favour. 
There was a lull thereafter before Ryder came down the track and smashed Harbhajan over long-on for a maximum, the first of the New Zealand innings.
Williamson, after scoring next to nothing following his fifty, broke free in a Harbhajan over, taking 11 off it including a boundary. That helped New Zealand get to within a run of avoiding the follow on.
Another couple off Ojha in the next over helped his team avoid the same.
In the process, he and Ryder broke the New Zealand record for the best fift wicket partnership against India: their 150-plus standing besting the effort of Ross Taylor and James Franklin at Wellington last year.
Ryder reached his third Test ton with a boundary through covers off Sreesanth. 
However, his dismissal two balls later not only gave Sreesanth his first wicket of the innings but also brought to an end New Zealand's second-highest fifth wicket partnership ever.
Williamson was left just 13 runs short of a century on debut. His 226-ball knock was inclusive of just six boundaries.
And the duo ensured that the Indian bowlers had to work harder than expected to get their wickets.