Satisfied with the deal being offered to it -- in the proposal to radically alter ICC's power equations in favour of India, England and Australia -- New Zealand Cricket has defended the BCCI's role in the revamp plan.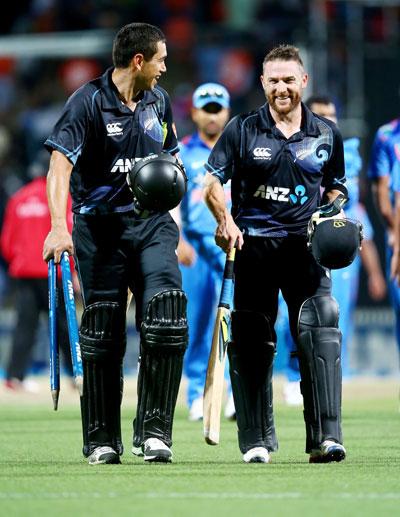 NZC's ICC representative Mark Snedden said the proposal, which has been put off for some time for the want of an amicable consensus, would be beneficial to New Zealand.
He rejected criticism that it was an attempt by India to take control of the ICC due to the huge revenue contribution it makes to the world body.
"I think, one of the problems the ICC has had in recent years was that India has been outside of the camp rather than inside it," Snedden said.
"Part of what's been happening at the moment has been a deliberate process, led by Australia and England, to actually draw India back in to this."
Snedden said the NZC's revenue is set to increase from $52 million to $70 to 100 million if the plan goes ahead.
"There was a lot of speculation in the media last week that we would get some crumbs from the big guys and just end up playing mainly the small guys," he told New Zealand's Radio LiveSport from Dubai.
"That's not going to happen. We've locked in good commitments from Australia, England and India through that 10-year period (to 2023).
"It's going to see our revenues from ICC events increase from the $52 million we got out of the last eight years to, depending on what the results are sold for, somewhere between $70 and $100 million over the next eight years," Snedden said.
Pakistan, South Africa, Sri Lanka and Bangladesh are reportedly opposing the revamp of administrative and financial structures of the ICC, which will cede most of the decision making in world cricket to the 'Big Three'.
"We're building up a program which is going to be very, very similar or even the same as what's already contained in the FTP. So on the field, I think we're getting close to getting a really, really good result out of this," Snedden asserted.
The PCB, CSA and SLC have sought more time to look through and internally discuss the radical changes being recommended in the 'position paper' which will be tabled later.
The 'position paper', which sought for a complete overhaul of the ICC's administration and its revenue distribution, will fall flat if the four Boards decide to oppose it as seven votes out of 10 ICC Full Members will be required to carry it through.