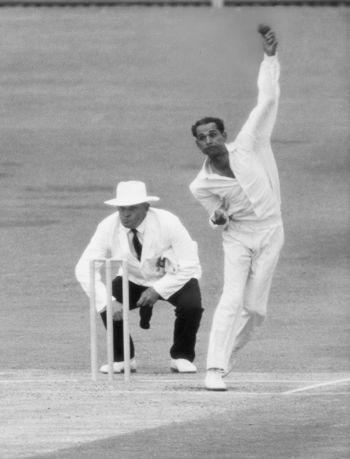 Former Test all-rounder R G (Bapu) Nadkarni is pleasantly surprised by the Cricket Board's decision to honour him with two other former India stalwarts at its 7th annual awards function in Mumbai on January 11.
"I never even dreamt I would be honoured by the Board. I have been caught on the wrong foot, so to say. It has come a bit late, but I am very happy that my small contribution has been recognised. Of course, I will be there," 80-year-old Nadkarni said.
Nashik-born Nadkarni, renowned for his accurate left-arm spin bowling with which he reeled off maiden overs endlessly and his obdurate batting, is to be given a special award by the BCCI in recognition of his outstanding contribution to Indian cricket along with two other former Test players from Mumbai - England-settled stumper Farokh Engineer and the late Eknath Solkar.
The award comprises a trophy and a cheque for Rs 15 lakh.
"Last year, we felicitated three cricketers posthumously - Vijay Merchant, Vijay Manjrekar and Dilip Sardesai - who did not win the C K Nayudu award. Likewise, we're honouring these three former cricketers," said Board's General Manager (Game Development), Prof Ratnakar Shetty, about the special award.
Image: Bapu Nadkarni
Photograph: Central Press/Getty Images