Banned Pakistan pacer Mohammed Aamir claimed innocence over defying the ban imposed on him after the ICC launched an investigation on him playing in an English competition.
Aamir, who was handed a five-year ban by ICC in February for his involvement in last year's spot-fixing scandal, played for Addington in Surrey Cricket League Division One at the LSE ground in New Malden near London.
The pacer, who was banned along with Pakistani teammates Slaman Butt and Mohammed Asif, confirmed that he played in the match but said he never knew the game was an official league fixture.
- Spot-fixing - the latest threat to game's integrity
"I was informed by club representatives before the game that it was a friendly match, being played on a privately owned cricket ground. I asked the club representatives if the match fell under the jurisdiction of ECB and they informed me that the match did not," Aamir was quoted as saying by PakPassion.net.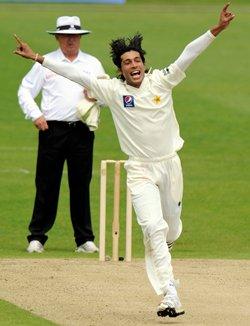 "We are investigating and awaiting the details. If true, it is clearly a breach of the sanction imposed in February. The ban is absolutely worldwide covering all levels and any activities connected with cricket. What might happen next is a hypothetical question at this stage," ICC spokesman Colin Gibson was quoted as saying by the Daily Mail.
"I spoke to several club representatives about the issue and they all told me that it was a friendly match and therefore would not contravene my ban from the ICC. I was informed that I was fine to play," Aamir reasoned.
Amir denied that he had signed any sort of registration documents with the club and insisted that he would not risk further trouble by playing in an official fixture.
"I would not be stupid enough to knowingly play in a match that I knew would contravene my ban. Wherever I am going to play cricket, the world will know about it. I would not be stupid enough to play in a match where I knew that I would be taking a risk," said the 19-year-old left-arm pacer.
Earlier, an ECB spokesman also said that the Board was "aware of this incident and we are investigating as a matter of urgency along with the ICC to see if this game falls under our jurisdiction".
Aamir was central to Addington's 81-run victory in the game, against St Luke's CC. He surprisingly opened the innings and scored 60 before returning with bowling figures of four for nine in seven overs, according to the newspaper.
He was handed a five-year ban from cricket after being found guilty of bowling no-balls on demand during the Lord's Test against England last summer.
His team-mates Salman Butt and Mohammad Asif were also handed bans, and all three players are awaiting trial at Southwark Crown Court over allegations of cheating and conspiracy to obtain and accept corrupt payments.