Australian bowler Mitchell Johnson has reportedly got his popular handlebar moustache shaved off by wife Jessica.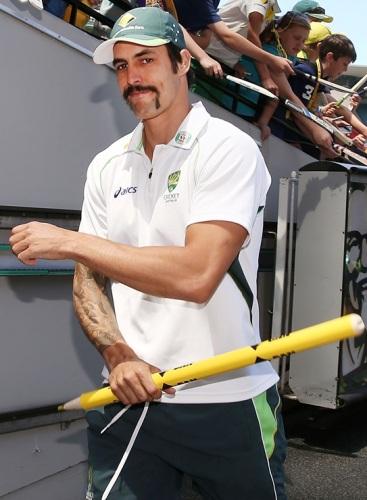 As part of raising money for men's health charity Movember, Johnson had grown the moustache in late last year, but decided to keep it for the duration of Australia's 5-0 Ashes whitewash over England.
According to stuff.co.nz, Johnson said that he really enjoyed having the mo, the dirty mo, adding that they were able to raise close to 40,000 Australian dollars.
The 32-year old has agreed to auction off the shavings in a replica Ashes urn to help reach his 50,000 Australian dollars donation target.
However, the fast bowler has assured that his clean-shaven look won't stay for long as he promised to re-grow the mo for next month's tour of South Africa, the report added.
Proteas tell Warner to stop talking
Meanwhile, Australian opener David Warner should try to improve his technique and worry about in his own game instead of thinking about Proteas players, according to current and former South Africa players.
Warner invited criticism from South Africans after he claimed that some Proteas are vulnerable and Australia will exploit their weaknesses during their series, starting February 12.
Former wicketkeeper Mark Boucher said Warner should rather stop talking and focus on getting his technique right to play Dale Steyn and Vernon Philander.
He further said if anyone is vulnerable to pace it is Warner, and added that his former teammates wouldn't stoop to Warner's supposedly low level, News.com.au reports.
Boucher said South African players won't to be dragged into a war of words and would want to do their talking on the field.
Batsman Faf Du Plessis said it is pretty simple for South Africa as they have played Australia before and know their game.
He added that the Australians are quite verbal in their approach where as South Africa's brand of cricket is quite different.