Off-spinner Mark Craig captured the best figures by a New Zealand bowler on debut as the visitors beat West Indies by 186 runs late on the fourth day of the first Test at Sabina Park in Kingston, Jamaica, on Wednesday.

The hosts were bowled out for 216 after New Zealand captain Brendon McCullum had asked for an additional 30 minutes of play when they reduced West Indies to 115 for seven with four overs remaining in the regulation day's play.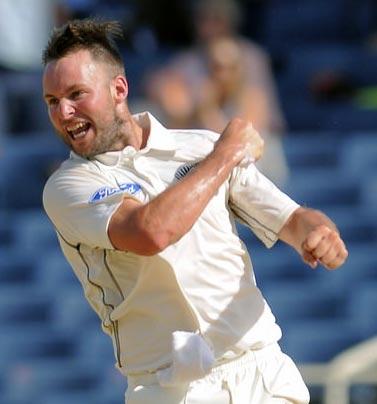 Craig finished with 4-97 and match figures of 8-188, the best from a New Zealand bowler on debut, as the hosts were dismissed in the final over of the day, chasing an improbable 403 runs for victory in Kingston.

"Nigh on the perfect Test for us," McCullum said. "Obviously a crucial toss to win and to put 500 on the board [in the first innings] allowed us to dictate the game.

"It didn't feel easy throughout the Test. They certainly presented us with some tough challenges [and] ... we absorbed pressure at times.

"I can't fault how we played the game."

Tim Southee had torn the top off the hosts' second innings on Wednesday with two wickets while Craig and legspinner Ish Sodhi shared the wickets in the final session with Sodhi taking 3-42 as New Zealand won just their second test in the Caribbean.

Tailenders Shane Shillingford and Sulieman Benn had provided a scintillating 10th-wicket partnership for the crowd, belting 82 runs from 56 balls before Benn was caught by wicketkeeper BJ Watling from part-time spinner Kane Williamson for 25 with two balls remaining in the day's play.

Shillingford was left 53 not out, having scored the second-fastest Test half century from 25 balls. He hit five sixes and three fours in his innings.

McCullum had earlier declared New Zealand's second innings on 156 for eight, pushing the tourists to a lead of over 400 runs. Craig ended up scoring the final runs after having belted a six on the first ball he faced in Test cricket.

Southee had earlier reduced the hosts to 15-2 at tea when he captured Kieran Powell for a duck and the dangerous Chris Gayle for 10 before Craig took over in the elongated final session. The off-spinner captured two wickets in an over when he had Darren Bravo caught behind for 12 and then Marlon Samuels caught at forward short leg for a two-ball duck, the batsman making his first pair in test cricket.

Sodhi had the obstinate Shivnarine Chanderpaul trapped lbw for 24 with about an hour's play remaining before Craig had Kemar Roach (19) caught behind.

Sodhi then bowled West Indies captain Denesh Ramdin for 34 and had Jerome Taylor caught by wicketkeeper BJ Watling for 19 before Shane Shillingford and Benn produced their cameo. "If you told me this was going to happen before I came here, I'd tell you to go away. So this is a dream start," Craig said of his impressive debut.

"The big thing I felt was the confidence that Brendan and [coach] Mike [Hesson] gave me to just go out there and do what I can do and not be who I'm not. That was massive for me."

Scoreboard:

New Zealand 1st innings: 508-7 dec. (K Williamson 113, J Neesham 107, BJ Watling 89)

West Indies 1st innings: 262 all out (S Chanderpaul 84*, C Gayle 64, T Southee 4-19, M Craig 4-91)

New Zealand 2nd innings: (Overnight score: 14-2)
P Fulton c Ramdin b Taylor 0
T Latham c Gayle b Roach 73
K Williamson b Roach 2
I Sodhi lbw b Taylor 4
R Taylor lbw b Taylor 0
B McCullum b Shillingford 17
J Neesham c (sub) b Shillingford 20
B Watling not out 22
T Southee c Bravo b Benn 3
M Craig not out 7

Extras: (lb: 8) 8

Total: (For 8 wickets declared in 60.5 overs) 156

Did not bat: T Boult.

Fall of wickets: 1-0, 2-7, 3-14, 4-14, 5-55, 6-118, 7-143, 8-146.

Bowling: J Taylor 12-4-28-3, K Roach 12-6-12-2, S Benn 17.5-3-47-1, S Shillingford 13-0-39-2, M Samuels 6-1-22-0.

West Indies 2nd innings (Target: 403)
CH Gayle c Watling b Southee 10
KOA Powell c Latham b Southee 0
KA Edwards c Neesham b Craig 14
DM Bravo c Watling b Craig 12
S Chanderpaul lbw b Sodhi 24
MN Samuels c Latham b Craig 0
D Ramdin b Sodhi 34
KAJ Roach c Watling b Craig 19
JE Taylor c Watling b Sodhi 18
SJ Benn c Watling b Williamson 25
S Shillingford not out 53

Extras: (b 4, lb 2, w 1) 7

Total: (all out in 47.4 overs) 216

Fall of wickets: 1-8, 2-11, 3-30, 4-54, 5-54, 6-76, 7-115, 8-121, 9-134, 10-216.

Bowling: T Boult 10-3-29-0, T Southee 9-2-32-2, M Craig 15-2-97-4, J Neesham 2-0-9-0, I Sodhi 11-1-42-3, K Williamson 0.4-0-1-1.

Result: New Zealand win by 186 runs

Series: New Zealand lead the three-match series 1-0.
Image: Mark Craig
Photograph: Windiescricket.com