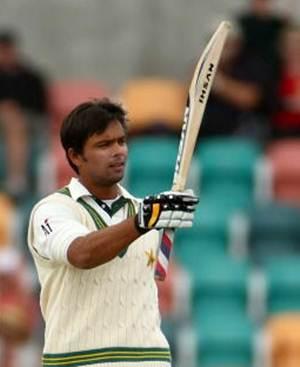 Khurram Manzoor and Younus Khan scored half centuries as Pakistan made a strong reply to Zimbabwe's first innings total of 294 on the second day of the second Test at the Harare Sports Club, on Wednesday.
At the close, Pakistan were 163 for 3, with Younus unbeaten on 52 and captain Misbah-ul-Haq on 27.
Younus, who scored an unbeaten double century in the first Test to set up Pakistan's 221-run victory, became the fourth Pakistan batsman to pass 7,000 runs in Tests.
Zimbabwe, resuming on 237 for eight, added 57 to their total as the last four batsmen all made useful contributions before number 10 Tendai Chatara was dismissed lbw for 21.
Opening bowler Junaid Khan finished with best figures of four for 67.
Manzoor became the first Pakistani opener to reach 50 this year before he was run out for 51 in an unnecessary mix-up to leave Pakistan teetering precariously at 96 for three.
Younus and Misbah, Pakistan's leading batsmen, however, steadied the innings with an unbeaten fourth-wicket partnership of 67.
Scorecard
Zimbabwe (1st innings):
T Mawoyo c Adnan Akmal b Junaid Khan 0
V Sibanda b Rahat Ali 14
H Masakadza c Mohammad Hafeez b Saeed Ajmal 75
B Taylor lbw b Abdur Rehman 51
M Waller c Adnan Akmal b Junaid Khan 23
E Chigumbura b Abdur Rehman 15
R Mutumbami c Adnan Akmal b Junaid Khan 8
P Utseya c Rahat Ali b Junaid Khan 22
T Panyangara b Rahat Ali 24
T Chatara lbw b Abdur Rehman 21
B Vitori not out 19
Extras: (b7, lb 14, w1) 22
Total: (109.5 overs) 294
Fall of wickets: 1-0, 2-31, 3-141, 4-172, 5-176, 6-187, 7-203, 8-234, 9-248
Bowling: Junaid Khan 33-11-67-4, Rahat Ali 19-7-48-2, Younis Khan 3-0-7-0, Saeed Ajmal 27-6-92-1, Abdur Rehman 23.5-6-47-3, Mohammad Hafeez 4-0-12-0.
Pakistan (1st innings):
Khurram Manzoor run out 51
Mohammad Hafeez c Masakadza b Vitori 22
Azhar Ali lbw b Panyangara 7
Younis Khan batting 52
Misbah-ul-Haq batting 27
Extras: (lb4) 4
Total: (for three wkts, 68 overs) 163
Fall of wickets: 1-29, 2-62, 3-96
Bowling: Panyangara 13-3-30-1, Vitori 16-5-42-1, Chatara 18-5-28-0, Masakadza 9-4-18-0, Utseya 12-0-41-0.
Image: Khurram Manzoor
Photograph: Robert Cianflone/Getty Images