'It was the perfect kind of wicket for the line and length Behrendorff bowled'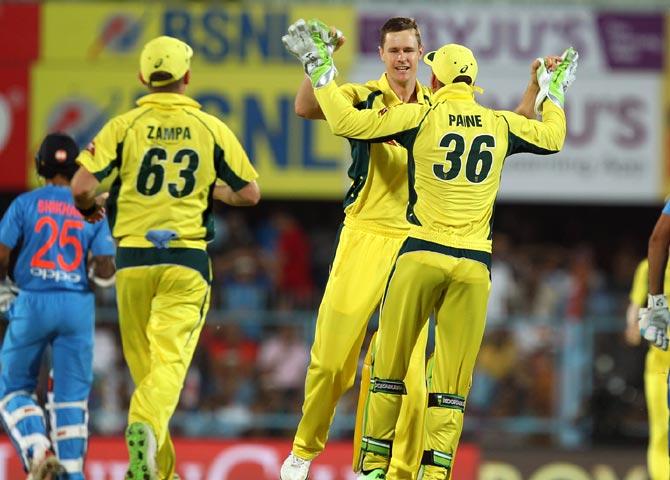 IMAGE: Australia pacer Jason Behrendorff celebrates with wicketkeeper Tim Payne and Adam Zampa after dismissing Rohit Sharma in the second Twenty20 International in Guwahati on Tuesday. Photograph: BCCI
India pacer Bhuvneshwar Kumar feels the dismissal of Virat Kohli and Rohit Sharma in Jason Behrendorff's first over of the innings tilted the scales Australia's way in the second Twenty20 International in Guwahati on Tuesday.
Rookie left-arm pacer Behrendorff took four wickets for 21 runs in four overs as Australia won the match by eight wickets and levelled the three-match series.
"He (Behrendorff) bowled really well. He made full use of the wicket. It was the perfect kind of wicket for the line and length he bowled," said Bhuvneshwar, at the post-match news conference.
"You need to be a bit fortunate to get three or four wickets in T20s. Rohit's wicket and Kohli's wicket were the crucial point for us in the first over itself," he added.
Pace, aided by swing, made a lot of difference for Behrendorff, opined Bhuvneshwar.
"That's his natural thing. He swings the ball, he got pace. Best thing is whatever the line and length needed for this wicket. As I said, you have to be fortunate to get three or four wickets in T20Is. He was fortunate to have got those wickets."
Contrary to popular belief that it would be a run-feast, the wicket was not great for batting, reckoned the Uttar Pradesh pacer.
"It was a tough wicket for batting. Rain was around; it was a damp wicket. So you know Australian bowlers made the most of the wicket," he said about Australia opting to bowl after winning the toss.
India could never get going after the early jolt. Kedar Jadhav (27) was Indian top-scorer, followed by Hardik Pandya (25), as the team folded for 118 off the last ball.
"I think we tried to rebuild it, but we couldn't do it.
We can't really put a finger on someone and say it was their fault. So it was just an off day for us."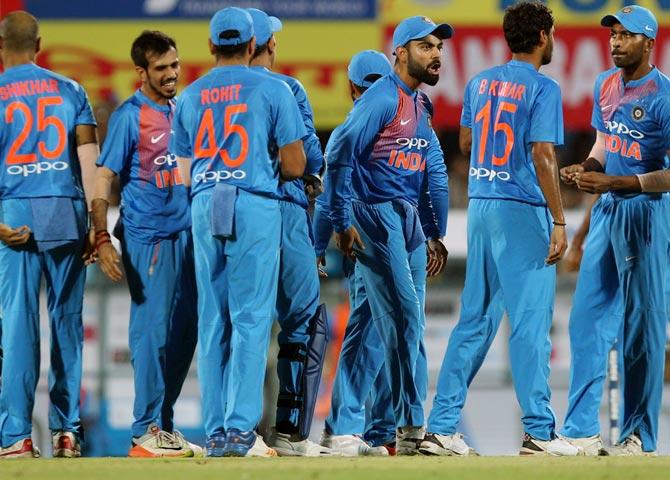 IMAGE: Skipper Virat Kohli leads India's celebrations after the fall of Aaron Finch's wicket in the second Twenty20 International in Guwahati on Tuesday. Photograph: BCCI
Defending the paltry total, Jasprit Bumrah (1/25) and Bhuvneshwar (1/9) dismissed the two Aussie openers, David Warner (2) and Aaron Finch (8), respectively inside three overs, but India failed to make further inroads as Moises Henriques (62 not out) and Travis Head (48 not out) sealed an emphatic victory.
"We tried our best to take an initial wicket. But if you have to win the match, you have to keep taking wickets, especially in the middle overs, which we couldn't do. I would say they bowled better than us," Bhuvneshwar added.
Both Bhuvneshwar and Bumrah bowled three overs each without completing their quota. The pacer said it was captain's call.
"There is something part of a strategy... what the captain is thinking, what he wants to do. He made us bowl three overs each in the Powerplay and we took a wicket each.
"It is up to him; if he wanted us to bowl, we could have completed our quota. But that was his (Virat Kohli's) thinking. We can't really say we could have bowled the way we began."