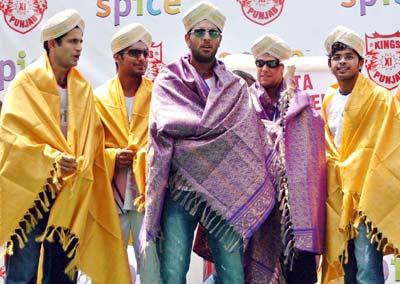 Members of the King's XI Punjab team, Irfan Pathan, Kumar Sangakkara, captain Yuvraj Singh, James Hopes and S. Sreesanth pose with the traditional Mysore Peta and shawl presented to them in Bangalore.
Punjab rose to second in the IPL table as they scored their fifth straight win over Bangalore Royal Challengers on Monday.
Some players from the team interacted with a select group of under-16 cricketers in a 'Chota Champions meet Kings XI' event organised by Spice Telecom at the KSCA on Tuesday.
"If I am your age I would be excited and would have constantly questioned the cricketers present here. For these kids, it's a nice opportunity to learn from us," Yuvraj told the youngsters.
Photograph: PTI