Sri Lanka's Minister of Media and Information, Keheliya Rambukwella on Wednesday blamed the local press for blowing out of proportion the incident involving his son Ramith Rambukwella, who reportedly caused a mid-air panic in an inebriated state while on a British Airways flight.
"My son told me about the incident, said he apologized to passengers. There was not even a two meter gap between the back door of the plane and the toliet door. Anybody can make this type of mistake. Even the British Airways have said that," Rambukwella told the local Lankadeepa newspaper.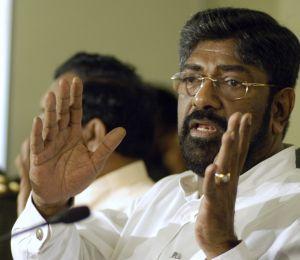 The minister's son Ramith, a member of the Sri Lanka 'A' team which toured the West Indies had allegedly tried to open the cabin door of the British Airways flight to London from the West Indies. The London Daily Mirror reported that he was drunk on board.
"This was a very small incident. I am sorry that the local media has chosen to blow it out of proportion. I have the British Airways report with me. They say it was a minor incident," he said.
The governing body, Sri Lanka Cricket (SLC) said it would conduct a probe following a report by the team manager, Jayantha Seneviratne. Rambukwella said his son would fully cooperate with the investigation.
Sri Lanka's A team returned home after the West Indies tour where they played two 4-day 'Tests', 50-over and T20 internationals.
Photograph: Buddhika Weerasinghe/Reuters