The Chennai police has given time till February 15 for four persons accused in a funds misappropriation case, also involving suspended Indian Premier League Commissioner (IPL) Lalit Modi, to appear before it for inquiry.
City Police Commissioner T Rajendiran said that the fate of Modi, who had twice refused to accept police summons, will also be decided after February 15.
"We have given them time till February 15," said Rajendiran in Chennai.
The accused had earlier been asked to appear for an inquiry either on January 25, 26 or 28, any of the dates suitable for them.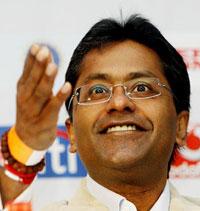 The four accused who are given an extended time are Harish Krishnamachari of Mumbai, World Sports Group office-bearers -- Venu Nair, Andrew Georgio and Seamus O'Brien.
The case was filed by Board of Control for Cricket in India (BCCI) Secretary N Srinivasan, who lodged a complaint last year against Modi, charging him with misappropriation of Rs 468 crore, mainly in allotting media rights and free commercial rights.
Two of the accused -- Ajay Verma and Kunal Dasgupta had already complied with the police summons to appear before it.
They had been summoned under CrPC Sections 91 (to produce documents or other things) and 160 (power to require attendance of witnesses).
A case had been registered in October against Modi and others under different sections, including criminal conspiracy, criminal breach of trust, falsification of accounts and cheating.
As part of its probe, police had sought details from The BCCI on the series of meetings between the Indian Cricket Board and IPL and its minutes.