Businessman Aushim Khetrapal says he is contemplating filing a defamation suit against New Zealand cricket captain Stephen Fleming, who has allegedly accused him of offering money to join a match-fixing syndicate.
Khetrapal strongly denied having offered any money to the Kiwi captain and said the allegation levelled against him is a "gimmick" by the cricketer to sell his book.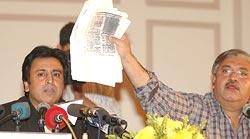 "I am certainly considering filing a defamation suit but I cannot do so only on the basis of media reports. We will go through the book and what is written in it and would take an appropriate decision in a couple of days," Khetrapal told reporters in Delhi on Monday.
The sports promoter-turned businessman was named by Fleming as the one to approach him to join the match-fixing syndicate in 1999 in his book 'Balance of Power', written by journalist Richard Boock.
Fleming said he was approached in the bar of the team's Leicester hotel during the 1999 World Cup in England by a man later identified as Khetrapal, an associate of Indian bookmaker Sanjeev Chawla.
Khetrapal maintained that he had met Fleming in July, and not during the World Cup as mentioned by the cricketer, in connection with the staging of an exhibition match for the Punjab Cricket Association, which did not fructify.
"In fact I met Fleming and even West Indies captain Brian Lara, who was then on his way to Scotland to play golf, and had offered them a contract for the exhibition match," Khetrapal said.
Pointing out that Fleming had himself denied being offered money by him after the issue first came up in 1999, Khetrapal said he had then thought that the chapter was closed and hence made no effort to clarify his stand.
Khetrapal said he is planning to come out with his own book and tell his side of the story.
"In 1999 I had started writing a book on the various issues related to cricket but did not publish it then because I thought the issue was closed. But now since it has again been raised four years later, I will surely come out with it this time," he said.
"The book titled 'I Dare' would deal with subjects relating to television rights issues, sponsorships and also what I came to know from hearsay about match-fixing," he said, adding he would work on updating the book with issues that took place in the last four years.
Khetrapal, who was also named by former England all-rounder Chris Lewis for allegedly offering money to fix a match, said he had taken legal recourse against the cricketer and claimed that he had received apology letters from the newspaper 'News of the World'.
He also claimed that the Scotland Yard police, investigating the matter, had also written to him stating that their probe could not find anything against him and the case stands closed.
PHOTOGRAPH:  Sondeep Shankar/Saab Press