Stalwarts Anil Kumble, Rahul Dravid, VVS Laxman and Sourav Ganguly, as well as in-form opener Gautam Gambhir, were not retained by their franchises for 2011 and 2012 Indian Premier League (IPL) seasons and will go into the players' auction pool to be bought by interested teams.
Kumble, who led Royal Challengers Bangalore in the last two seasons of the Twenty20 League, and Dravid have been set free for the January 8-9 auction by RCB who have kept only Virat Kohli, on the strength of his stupendous form for India in the ongoing One-Day International series against New Zealand.
With the deadline for player retention ending today, former India captain and Bengal icon Ganguly was also not retained by under-performing Shah Rukh Khan-owned Kokata Knight Riders. Only swashbuckling West Indian opener Chris Gayle has found favour with KKR's owners, according to informed sources.
Deccan Chargers, who won the IPL in 2009, also decided against retaining any of their players including captain Adam Gilchrist, veterans Laxman, Herschelle Gibbs and youngster Rohit Sharma.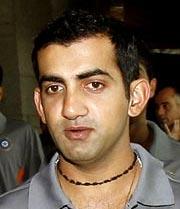 The surprise decision is that of Delhi Daredevils not retaining Gambhir, who scored back-to-back ODI hundreds against the Kiwis, and continue his partnership with Virender Sehwag who is the lone player to be retained by the two-time semi-finalists. Ace spinner Daniel Vettori, Sri Lanka's Tillakaratne Dilshan and South African AB de Villiers also didn't find favour with Delhi.
The two franchises who played in last season's IPL final -- champions Chennai Super Kings and Mumbai Indians -- have retained their full quota of players.
CSK, who also lifted last season's Champions T20 League in South Africa, have kept their faith in India skipper Mahendra Singh Dhoni, Suresh Raina, Murali Vijay and Proteas' all rounder Albie Morkel.
Mumbai expectedly did not allow batting maestro and captain Sachin Tendulkar, off-spinner Harbhajan Singh, hard-hitting West Indian batsman Kieron Pollard and Sri Lanka pacer Lasith Malinga to go into the auction pool.
India's top pacer Zaheer Khan was shockingly retained by the franchise, who preferred Malinga ahead of him.
According to a spokesperson for Rajasthan Royals, who are fighting a legal battle against the BCCI for its decision to terminate its franchise agreement, leg spin legend Shane Warne and all rounder Shane Watson have been retained.
King's XI Punjab on Wednesday sought an extension of today's deadline for signing up marquee players but the Bombay High Court refused to entertain their plea.
IPL CEO Sundar Raman said that the T20 league can officially release a list of players who have been retained by their franchises only after midnight tonight as per the court order.
As per the IPL Governing Council decision of September 5 each player retention would reduce the salary cap as follows:
Up to 4 players per franchise may be signed for retention of which only up to 3 shall be Indian Players. The Player must have been included in the franchise's registered squad for the 2010 Season.
The franchise and player must mutually agree to be retained and the player fee to be paid by the franchise to the player for the 2011 and 2012 seasons.
Irrespective of the actual player fee to be paid to the Player, the salary cap for the franchise shall be charged US $1.8 million per annum for retaining the first player, $1.3m pa for the second player, $0.9m pa for the third player and $0.5m pa for the fourth player.
Thus if a franchise retains and signs four players, its salary cap will be charged by $4.5m in each of 2011 and 2012 seasons and it will have only $4.5m remaining to pay as player fees for the remainder of its registered squad.
List of players retained by franchises:
Mumbai Indians: Sachin Tendulkar, Harbhajan Singh, Kieron Pollard, Lasith Malinga
Chennai Super Kings: Mahendra Singh Dhoni, Suresh Raina, Murali Vijay, Albie Morkel
Royal Challengers Bangalore: Virat Kohli
Rajasthan Royals: Shane Warne, Shane Watson
Kolkata Knight Riders: Chris Gayle
Delhi Daredevils: Virender Sehwag
Deccan Chargers: No player retention
Kings XI Punjab: Not yet confirmed