Delhi Daredevils will look to reclaim the top spot when they take on a floundering Deccan Chargers in their Indian Premier League clash in Hyderabad on Thursday.
Daredevils surrendered the top spot to Kolkata Knight Riders when they lost the home match by six wickets.
With 16 points from 11 matches, they are placed second and have virtually sealed a play-off berth, while Chargers are out of reckoning, with just five points from 12 matches.
Victory on Thursday will serve the visitors well, as they face tough challenges ahead in Royal Challengers Bangalore and Chennai Super Kings, who are desperate to come out of the mid-table logjam and get into play-off contention.
There is little doubt that Daredevils are odds-on favourites but they need to guard against complacency as their batting and bowling both looked ordinary against KKR and, for the first time, their middle-order was put to test and failed miserably.
Their foreign recruit Ross Taylor has not fired as yet and in the absence of star English cricketer Kevin Pietersen, who has returned to England for national duty, the defeat certainly acted as a wake-up call for Virender Sehwag's boys.
Taylor, by his own admission, is out of form, having scored only 107 runs from eight matches, and the Daredevils management may be tempted to pitchfork West Indian all-rounder Andre Russell in the thick of things.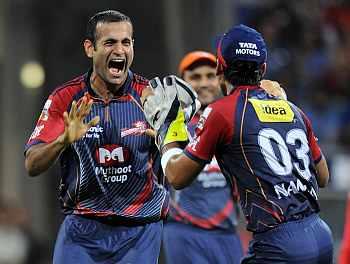 Not only is Russell a capable seamer, he is also a very handy batsman. The rest of the team selects itself.
Daredevils have depth in batting. Despite Pietersen not part of it now, the outfit is bolstered by the arrival of another match-winner in David Warner.
The Daredevils are no doubt a better side with a formidable batting line-up and balanced bowling attack while Chargers have relied a bit more on individual performances from Australian Cameron White and South African pacer Dale Steyn.
Lack of consistency combined with inability to soak pressure has been the case for Deccan from the start of the league. They created chances for themselves many a times but stumbled near the finish line.
The numbers are heavily stacked against the Chargers and it will be a difficult proposition for them to make a match of it, when they take the field against Sehwag and Co. at the Rajiv Gandhi International cricket stadium.
The team failed to chase down a target of 170 runs against Kings XI Punjab on Tuesday and could only manage 145 runs in their alloted 20 overs.
It wll surely take a great effort from them to disturb Delhi's momentum. The only way they can hope to pull it off is by playing out of their skins, and hope luck too plays its part.
Skipper Sangakkara will again have to shoulder the bulk of the responsibility while Jean-Paul Duminy and Shikhar Dhawan would look to carry the momentum.
The absence of more game-changers in the team is supposed to be costing the team dearly.
Deccan lack firepower in its bowling department as barring Steyn, the Hyderabad team does not have quality bowlers in their ranks.
Their domestic pacers in Veer Pratap Singh, A Ashish Reddy and Anand Rajan have also failed to provide the South African speedster good support from the other end.
The spin department also lacks sting with leg-spinner Amit Mishra resembling a pale shadow of himself.