Chennai Super Kings captain Mahendra Singh Dhoni heaped praise on Dwayne Bravo for his last-ball six to seal Chennai's five-wicket win over Kolkata Knight Riders in their crucial IPL match but said that his side need to improve batting in middle overs.
"It's very difficult in a game like this. We began strong with a solid partnership between Hussey and Vijay but did not bat well in middle overs. That is something we have to learn. But for Bravo's last ball six we would have lost the match," Dhoni said after the match.
Courtesy of the win, Chennai remained in contention for a play-off berth and Dhoni said they will have to win their last league match against Kings XI Punjab on May 17 at Dharamsala.
"We will take one game at a time and won't think for the play-offs now. We have to win our next match," he said.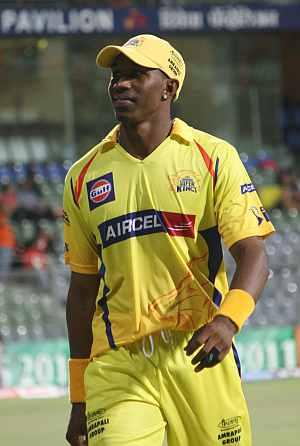 Kolkata captain Gautam Gambhir said his side were in for a chance for a win after off-spinner Sunil Narine got two wickets in one over.
"We needed wickets and thanks to Sunil who got two wickets in one over we were in for a chance. But Dhoni batted well and then Bravo hit that six. They played better cricket than us," he said.
"It is always a matter of learning your mistakes. The kind of cricket we are playing we are confident we will make it to the play-offs," he added.
Asked he would think at the hindsight that his side should have one extra spinner, Gambhir said, "May be an extra spinner could have been there. But before every match we select the bowlers whom we thought would do the job and try our best. It's a matter of taking decision for a particular match."