Cricket icon Sachin Tendulkar and yesteryear actress Rekha are among four eminent personalities recommended for nomination as members of the Rajya Sabha.
The 39-year-old Tendulkar, who has brought many a laurel to the country through his batting, and Rekha, known for her brilliant and emotional portrayals in Hindi cinema in the eighties, will become Members of Parliament under a provision of the constitution that allows the President to nominate 12 members to the Upper House.
There is no word from the government on the other two who have been nominated, though.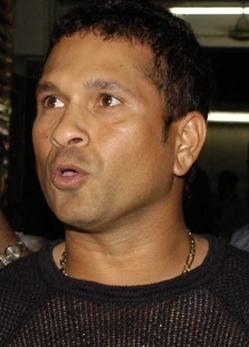 On Wednesday, Prime Minister Manmohan Singh sent a communication to the Ministry of Home Affairs, which, in turn, was forwarded to President Pratibha Patil for notification, sources said.
Article 80 of the Constitution provides for nomination of persons having special knowledge or practical experience in matters such as literature, science, art and social service.
The 58-year-old Rekha was one of the top Hindi film heroines of the eighties and won a national award for her acting.
Tendulkar's nomination to the Rajya Sabha has come as a surprise against the backdrop of a long-standing demand for conferring the Bharat Ratna on him for his contribution to cricket.
He completed the historic achievement of scoring 100 international centuries in March.
Earlier in the day, Tendulkar, accompanied by his wife Anjali, met Congress President Sonia Gandhi at her residence.
Tendulkar will be the first active sportsman and cricketer to be nominated to the Rajya Sabha.
The House already has a member from the film world in eminent lyricist and Hindi cinema script writer Javed Akhtar.