Mumbai Indians have worked hard on their fielding over the past few days which was one area they wanted to improve upon badly, coach Robin Singh said ahead of the side's fourth round home clash against Pune Warriors at the Wankhede Stadium, in Mumbai on Wednesday.
"Certainly our fielding in that game (against Kochi Tuskers Kerala) was not up to scratch. That is one are we have been working on pretty desperately to rectify during the last 4 or 5 days," said the former India all-rounder.
Fielding was one area that let down the team in last week's game against Kochi, a fact that was conceded by team captain Sachin Tendulkar, who scored a brilliant 100 not out -- his maiden ton in the T20 format of the game -- only to find himself on the losing side.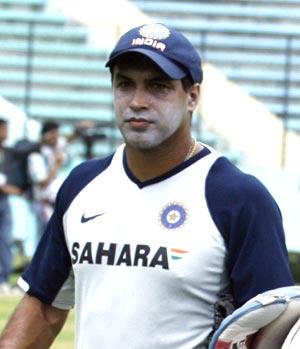 Robin sprang to the defence of Rohit Sharma who dropped Brendon McCullum off the first ball of the Kochi innings and the powerful New Zealander went on to smash 81 to lay the platform for a glorious run-chase that helped the southern franchise overhaul MI's formidable total.
"Anyone can drop a catch. Obviously, it was a costly miss. But it was not only that catch. There were some others too," Robin pointed out.
Robin said the team had discussed the game and have tightened up a few areas and were going into the match against Pune Warriors, who also have two wins and a loss to their credit.
"Obviously, we reflected back on the last game. There are a just a few areas we wanted to really tighten. We are very positive about tomorrow's game," he said.
Talking about Tendulkar's great run in the tournament (he's not been dismissed in three innings), Robin who was his teammate in the 1990s, said that the passion for the game which the maestro exhibits is slowly rubbing on to the other youngsters in the squad.
"Sachin is Sachin. He's an exception to the rule. More than anything it's his passion to play the game. Unless you have that, you don't think you can succeed the way he has succeeded. Probably, it has been transferred to the younger cricketers who have realized they also have to play a role. I think it has rubbed off on a few guys already."
Talk about Sri Lankan slinger Lasith Malinga, the MI coach was quick to point out that they are not overtly dependant on him.
"As I said, this format is something anyone can get hit. Munaf (Patel) has bowled exceptionally well. Ali (Murtaza) has bowled well. It's not a one-man show."
"Unfortunately, in the last game a few our main bowlers got hit. (It was) one of the rare days you saw Malinga going for some runs," he said.
Robin feels the Wankhede track would provide good bounce and pointed out the World Cup final held here on April 2 between eventual champions India and Sri Lanka as proof.
"I don't think you can get these scores if the wickets do not have bounce. On low tracks, you can't chase 180 or 185. You saw that in the World Cup as well. India chased down 270-plus. Unless the wicket is good, you can't chase down these scores and the wicket remained good when we batted second or when they (Sri Lanka) batted," he remarked.