The foundation of Chennai Super Kings' successful IPL title defence was laid by their openers.
Murali Vijay (95) and Michael Hussey (63) put together 159 runs, in just 89 balls, for the first wicket to virtually make the match a no contest.
It was the highest first-wicket partnership in IPL history and the second highest for any wicket -- behind Adam Gilchrist and Shaun Marsh's 206-run second wicket stand against Bangalore in Dharamsala earlier this season.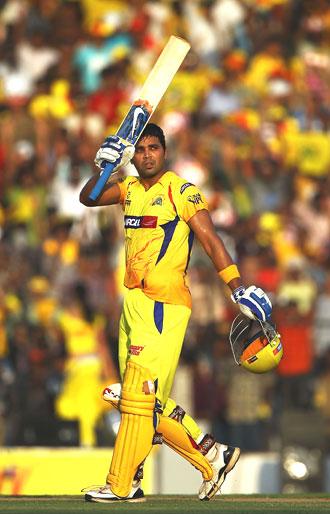 Both the batsmen got off the blocks quickly, Vijay with a maximum off Sreenath Aravind's last ball of the second over and Hussey with a six off Zaheer Khan over deep backward square leg with the very next ball.
And even as the two went about accumulating runs for Chennai, it seemed they were competing among themselves as well.
When Hussey was on 23, Vijay had made 19. When the latter was on 29, the former was on 26. And when Hussey was on 37, Vijay was on 30.
It was at this juncture that Vijay cut loose, a six off Daniel Vettori followed by two boundaries off Abhimanyu Mithun and a single off Syed Mohammad helping him register his third half century of the season.
Two more maximums of Aravind in the 12th over and the Tamil Nadu youngster had left his experienced partner far behind.
Competition between teammates is good when it helps the team prosper. And in Chennai's case, it certainly helped. However, Vijay later admitted there was no one upmanship involved.
"There can be no competition between Hussey and me," said Vijay, defending himself.
"I look up to him," he continued, adding, "He is a big player
"And the world knows it."
The 27-year-old was nonetheless pleased with his own effort, a 52-ball knock that was inclusive of four boundaries and six sixes. Vijay though admitted the knock did not require any additional effort.
"I didn't try to do anything different," he said, adding, "I was just working on the basics."
Vijay was inconsistent in this campaign, scoring 434 runs in his 16 innings (thanks largely due to Saturday's innings), but at a very low average (27.12).
"To be honest, I have been batting well and was not really worried about my form," he said, adding, "I was getting into 30s and 40s and then giving my wicket away.
"With the whole team contributing, I thought this was my chance to stand up and deliver."
The 27-year-old did regret missing out on what would have been his second IPL hundred.  
"I do regret it now," he said, before elaborating his point.
"But when I was batting, I was trying to hit hard. I was looking forward to take the team to a total of around 220, because with Chris Gayle in the opposition ranks, any total seems insufficient."
If there was a tinge of disappointment personally, it was quickly surpassed with the ecstasy of his team's triumph.
"It has been a team effort and I am extremely happy to be part of this unit," gushed Vijay.