Pune Warriors coach Geoff Marsh tells Bikash Mohapatra his franchise owners have spared no effort in ensuring a good team.
He won the World Cup both as player (1987) and coach (1999), and his pedigree in both the roles is proven.
His career as a player lasted only seven years, but his stint as coach is considerably longer. 15 years and counting!
Geoff Marsh's latest coaching assignment is with Pune Warriors, an outfit that made its Indian Premier League debut this season. The Australian is in charge of a team that has in its rank players of the calibre of Yuvraj Singh, Jesse Ryder, Graeme Smith and Robin Uthappa, to name a few.
Thus, it wasn't surprising when the debutants ensured their 53-year-old coach a winning start, a thumping seven-wicket win over Kings XI Punjab last Sunday.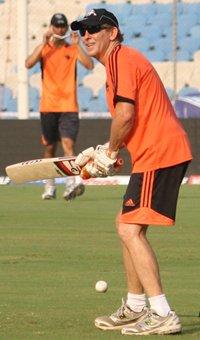 That was followed by an equally convincing four-wicket win over fellow-newcomers Kochi Tuskers Kerala three days later.
However, hopes of a hat-trick of victories did not materialise, a three-wicket defeat to Delhi Daredevils halting the wining run on Sunday.
Marsh, though, was unperturbed about the result.
"We won our first two games and posted a very good score in our third," he explained, adding, "Yes, we let ourselves down in the field.
"But that match is over now and we are looking forward to our next game."
The Australian expressed happiness with the composition of his team.
"We have got a terrific bunch of guys. The owners have spared no effort in ensuring a good team.
"Everyone in this team steps up to perform the role assigned to him," he declared.
Marsh had a few words of appreciation for his captain, Yuvraj.
"Yuvi has been terrific. He told me that he has been doing fitness training after the World Cup.
"He's doing well at the moment and, hopefully, he keeps going forward," he said.
He expressed confidence about his team going all the way in the tournament.
"We go into every game to win it," reasoned Marsh, adding, "We have got a good enough side, and, if we play well, we can make it to the final and then go all the way.
"We wouldn't do if we didn't believe in that. But it is a long road ahead."
The immediate task though is tough. On Wednesday Pune Warriors take on Mumbai Indians, one of the favourites going into the tournament.
"It is a great challenge to comeback against a good side," he remarked, adding, "They (Mumbai Indians) are coming off a loss (to Kochi) as well, so it will be a good game.
"There is a good rivalry between Pune and Mumbai, and fans will definitely come from Pune, so it will be a good crowd."
The astute coach that he is, Marsh will definitely have a trick or two up his sleeves for Tendulkar's Mumbai.
Photograph: Hitesh Harisinghani