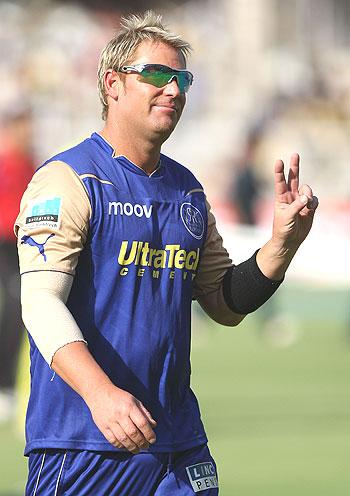 Australian leg-spinner Shane Warne on Tuesday revealed that he is not scared of Sachin Tendulkar.
During the famous Sharjah one-day series in 1998, Warne, speaking to journalists, had said he had nightmares of Tendulkar chipping down the track and hitting for a six.
But Warne now insists that he was just joking and it wasn't meant to be taken seriously.
"I want to clarify that this nightmare thing was a joke. Sachin is the best batsman of my time and I always enjoy the challenge of bowling to him. But I am not scared of him or anybody, for that matter," said Warne.
"If I would have been scared I wouldn't have taken so many wickets in my career. I had quite a hair-raising experience when he smashed me all over the park, but I also got him out many times," he added.
Warne is of the view that the Indian Premier League should work with the International Cricket Council to create a window so that everyone can participate in the tournament.
"IPL has a responsibility towards world cricket, and I think they should work with the ICC to create a window, so that it becomes mandatory for all international players to tour India during the IPL.
"It will give the Indian players opportunities to rub shoulders with all the great stars and learn. But, for that, the IPL needs to be short," he said.
Asked whether he will play the next edition of the IPL, the Aussie legend replied, "I may play next year. I did enjoy the last three years. I liked the challenge of nurturing the local talent in India. If I am bowling well, I will come up for 2011," hastening to add, "Of course, if Rajasthan Royals wants me to stay.
"I don't know the procedure of the IPL. May be, I will have to go for the auction, and if some franchise pays me 3-4 times more money, may be, I will go. But, ideally, I would like to be loyal to the Royals," he added.
Rajasthan Royals take on Delhi Daredevils on Wednesday, and Warne said it will be a big game.
"We have beaten Delhi in the semi-finals in 2008 and we will look to do the same again.
"We have a few stars in our team, like Shaun Tait, who is probably the fastest bowler in the world now. But it is all about motivating the Indian players and getting the best out of them," he said.
"We started the tournament very slowly, but with four wins in a row, I think it is a massive turnaround and tomorrow we are having a massive game and we will look to win," he added.
Warne felt the IPL is not just about money. 
"The IPL is not only about money. If you see the current bunch of Indian players, we have Suresh Raina working with Darren Lehman in the Chennai Super Kings team; also, there is Rohit Sharma. These players are evolving into match-winners after IPL stints.
"Even someone like Ravinder Jadeja bats at number 9 for India in Tests and also can play at number four when the situation demands in the T20 World Cup. So it is not true that IPL is only about money."
Photographs: IPL/ Getty Images