Former Pakistan Cricket Board chairman Lt. General Tauqir Zia believes Pakistan cricket is suffering because its players are lacking in education.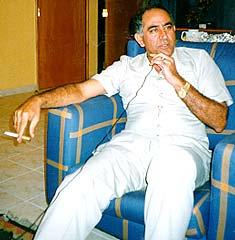 "There is a serious lack of education amongst the players, which is the reason for the distrust amongst them. They play into the hands of others who can manipulate them. There are some disruptive elements in the team. Yeh log piche se karwate rehte hai kuch na kuch [These people are always up to something from behind."
He added that Pakistan players are also a volatile but talented bunch that needs to be trained and educated.
"But without this confusion Pakistan cricket won't be Pakistan cricket."
Zia, however, feels the trend is changing. He cited the team that won the Under-19 World Cup in Dhaka last month to validate his point. Pakistan was also voted the best team of the tournament both on and off the field.
In an exclusive interview with Faisal Shariff, Zia, who resigned on December 1, 2003 after four years at the helm, also spoke about captaincy, his son Junaid, former skipper Rashid Latif and current coach Javed Miandad.
CAPTAINCY
He acknowledged the fact that Pakistan has been struggling for leadership since the last few years.
"Pakistan has never really had a genuine leader since Imran Khan. Inzamam-ul Haq was considered a lazy character but he has led really well. I have no doubt that he will lead Pakistan till the next World Cup.
"Wasim Akram and Waqar Younis also did not disappoint as captains, but leadership is a problem in the subcontinent. India is not changing their captain because they are winning."
He revealed that the PCB has identified three promising youngsters as leaders.
"Taufiq Umar is educated and balanced; he shows no emotions on the field. Bazad Khan [Majid Khan's son] is another candidate for captaincy; under-19 captain Salman Butt is another candidate.
"But a captain can only get results if his team is fit and it is important that the back-up staff ensures that the players are fit," said Zia.
JAVED MIANDAD
"There cannot be a better person than Javed Miandad to coach the Pakistani team. He has great experience and vision. He has done well as coach and I know the number of hours he has spent on every individual in the nets to sort out problems. If he can get some technical course in coaching he will be the best coach in the world."
He went on to reveal that former Pakistan coach Richard Pybus quit because some senior players were not ready to learn from him.
RASHID LATIF
Declaring Latif as Pakistan's best wicket-keeper since Wasim Bari, Zia expressed surprise about his match-fixing allegations in the recent One-Day International series between India and Pakistan.
"Where is the proof? Sarfraz Nawaz has been alleging that games are fixed since ages, but is there any concrete proof? Anyone who fixes games with millions watching them will have to be a brave and exceptional geniuses," he said.
He added that the PCB saved the former skipper from being banned for life after he unfairly claimed a catch during a Test match against Bangladesh last year.
"He could have got a very long ban; probably a life ban if the Board had not defended him. As the cricket Board we had to play our part and defend him. We defended Shoaib Akhtar also when he was reported for his bowling action."
Zia said it was unfair on Latif's part to have claimed the catch. He argued that if Latif was scared of losing the Test to Bangladesh then "what about the humiliating World Cup defeat [to Australia in the final] in 1999".
 "Weaker sides also win sometimes. I would give him the benefit of doubt because he is an honest person."
JUNAID ZIA
The former PCB chief said he quit because his son's career was being affected.
"I knew it was time to go when Junaid's selection in the team was being questioned. If he is good he will come through. Influence can only take you that far; after that it is your talent that takes you wherever."
Junaid is the highest wicket taker in Pakistan's domestic season. He came into national reckoning after doing the hard yards.
"He is still young and has along way to go. I was against him playing this series [against India] because to start your career against class batting like India's would prove disastrous for him."
Junaid will be going to Australia for a month's training. After returning he will give himself two years to make it on the international circuit.
BAZAD KHAN
Pakistani great Majid Khan had accused Zia of harming his son Bezad's career after the youngster was picked for the training camp and later dropped.
"No one has given him more chances than I have. But he did not perform in crucial games and was dropped. He is a talented cricketer, but where can we play him with Shoaib Malik and Abdur Razzaq already doing well?" Zia argued.
"It is just bad luck that he's trying for the national side when the slot is filled. But his time will come. I have no problems with him playing for Pakistan."