Bhuvneshwar Kumar's opening spell has to be the turning point of the day.
MS Dhoni had got it wrong with the coin, on what looked like a batting wicket, and admitted his team has to make early breakthroughs. Kumar responded to his captain's call, striking as early as the third over of the day (his second) crashing past David Warner's (6) defence.
The bowler, who went wicketless on debut in Chennai, then had Ed Cowan (4) out leg before in his third over, though with some help from Marais Erasmus.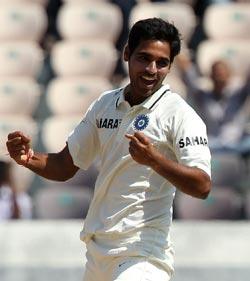 Replays suggested the ball had pitched outside leg stump. The South African umpire thought otherwise.
Shane Watson (23) and Phillip Hughes (19) put on 42 runs for the third wicket, hitting a few sweetly-timed boundaries en route and things seemed to be looking up for the visitors when Kumar, bowling continuously from one end struck for a third time, in his eighth over.
Watson, going for a pull off a short of a length delivery, was done in by the bounce, rather the lack of it. Kumar's first spell figures (9-1-36-3) made for an impressive read and ensured Team India total control early on and set the tone for the day.
Photograph: BCCI