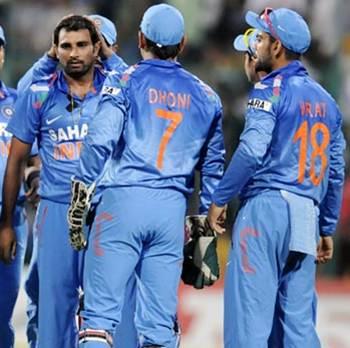 India regained the No 1 ranking in One-Day Internationals after Australia lost the fourth ODI in their ongoing series against England by 57 runs on Friday.
The defeat relegated the Aussies back to second place in the 13-team table.
As per the latest ICC rankings, India are atop with 117 points while Australia are second, with 116.
- Photos: After eight straight defeats, England finally beat Australia
India lost the No 1 spot on Wednesday when they were beaten by New Zealand in the second ODI in Hamilton by 15 runs, via the Duckworth-Lewis method.
India had 119 points before that match and Australia 118.
Following the defeat to New Zealand India lost a couple of points and
slipped behind Australia at 117 points.
However, the Aussies lost two points following Friday's defeat to England and their tally dropped to 116.
It was England's first victory on their three-month tour of Australia.
India needs to win Saturday's third ODI against the Black Caps at Auckland, failing which they will again lose their top ranking.