Bikash Mohapatra reports from Lord's.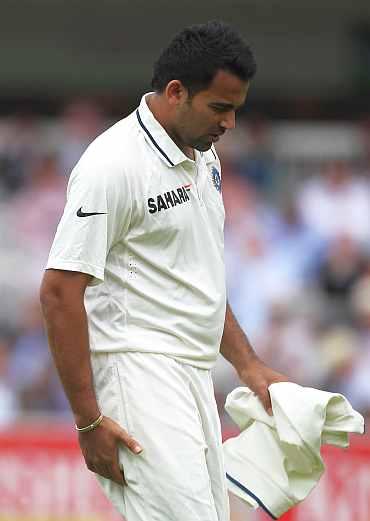 Zaheer Khan may miss the second Test at Trent Bridge, Nottingham.
 
Though the Indian team management is yet to issue a statement on the fast bowler's availability, it is unlikely that Zak will feature in the Test, which begins on Friday, July 29.
 
Shantikumaran Sreesanth, who acknowledged his debt to Zaheer in this interview with Rediff.com may play in the left-arm bowler's place.
 
Zaheer -- who has not only spearheaded India's bowling, but mentored young pacers like Sreesanth and Ishant Sharma -- was impressive in his short spell (13.2-8-18-2) in the first innings in the Lord's Test, accounting for both Alistair Cook and Andrew Strauss.
 
His departure from the field, following a strained hamstring, helped the Englishmen grab the advantage, which they never frittered away.
 
Zaheer didn't bowl in England's second innings and batted with a runner.
 
Quizzed about Zaheer's chances of playing at Trent Bridge, Indian skipper M S Dhoni was non-committal.
 
"We have three days, but I am not 100 per cent sure whether he will play or not," Dhoni said, adding, "It is a long series and we don't want to risk any individual."
 
"If he is close to 80 to 90 per cent fitness, without any chances of him getting injured further, only then will we make a call to play him."
"With the kind of cricket we are playing, it is very important to get the guys fully fit and not risk them for a particular game," Dhoni pointed out.
Zaheer's absence meant the captain had limited bowling options, compelling the wicket-keeper to chance his arm at odd intervals in the first Test.
Zaheer, 32, has a history of injury problems, some of which have forced him to spend lengthy periods on the sidelines.
Though he played a stellar role in India's nine World Cup games, an injury sustained during the Indian Premier League led Zaheer to skip India's tour of the West Indies last month.