Rahul Dravid, who became the second highest Test runs scorer on Saturday, admitted the pressure of expectation on Sachin Tendulkar helped his cause to a great extent. Bikash Mohapatra reports from Lord's.
When hordes of fans were expecting Sachin Tendulkar to create history at Lord's on Saturday, it was Rahul Dravid who stole the march.
With the opening Test between England and India being the 2,000 Test overall - and the 100th between the two countries involved -- many felt the Master Blaster would score his 100th international hundred, his first at the home of cricket, and make the occasion more special.
Tendulkar faltered though, getting dismissed for just 34.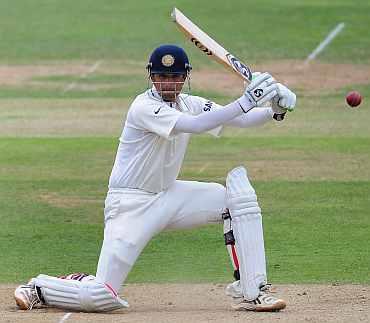 Instead, it was Dravid who registered his maiden Test hundred at Lord's, thereby helping his team avoid the follow-on.
It is imperative to mention here that on his Test debut, at Lord's in 1996, Dravid had come tantalizingly close to a hundred (getting out for 95).
In the 15 years that followed, he failed to achieve that elusive hundred. However, on Saturday, he set the record straight.
The 38-year-old admitted the pressure being on Tendulkar helped his cause to a great extent.
"The talk is always about Sachin. (And rightly so.)," he reasoned, adding, "In some way it suits me.
"He takes a lot of pressure and I get away quietly scoring a lot of runs."
Dravid also admitted getting to the three-figures on this occasion was difficult.
"I was running out of partners to get to 274 -- which was the critical number," he explained. "Only after the follow-on was avoided did I start thinking about my century.
"It was nice to score that hundred in the context of the game."
Though Dravid's effort proved just enough for India in their opening essay, the veteran batsman was aware it isn't enough.
"We have our backs to the wall. No doubt about it," he said.
"Hopefully we can come out of it," he added, before admitting an eventuality.
"If we don't get quick wickets in the opening session, we have to go on the back foot and try for a draw."