Bikash Mohapatra reports from The Oval.
It cannot get any better for Andrew Strauss.
Having started the year by regaining the Ashes -- his second Ashes win as captain, Strauss led England to a series win over Sri Lanka, and, subsequently, a comprehensive triumph over India was accomplished.
The latter helped England succeed the visitors as the No.1 Test team in the ICC rankings.
- No need to press the panic button: Dhoni
As the home team looks to complete its first clean sweep in years, their captain could have been forgiven for bragging. Not that he did.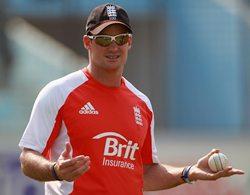 However, when a scribe asked how it feels now that England have won more Tests in the last couple of years than they did throughout the 1980s, Strauss seemed bemused.
"I didn't know that. But that's interesting," he quipped.
He said the days when the English side was subject of ridicule are well behind.
"I personally believe we always had the players," explained Strauss. "We simply didn't get the results.
"But now, I think, the days when English cricket was a laughing stock in the world are over for good."
From being the laughing stock to the No.1 team, England has achieved a lot.
Strauss was clear as to what brought about the change.
"I think English cricket has been through a long evolutionary cycle," he explained, adding, "Since the introduction of central contracts, things have gone up.
"The situation, the set-up, everything has improved dramatically and so has the standard of play."
With so much coming so soon, there is always the danger of complacency. And Strauss was the first to admit the same.
"There's always the danger of taking your foot off the gas. I hope we don't fall into that trap. "There are many challenges ahead of us. They never cease. There are definitely areas where we can improve. It is not the time to be satisfied. It is going to be harder and harder in the days ahead," he explained.
With a captain as composed as Strauss, the only way English cricket can hope to go is forward!