Bikash Mohapatra reports from Northamptonshire
A well-made hundred by Abhinav Mukund highlighted the opening day of India's tour match against Northamptonshire at the County Ground on Friday.
Mukund, batting at No.3, hit a plethora of boundaries in his 160-ball 113. The Tamil Nadu batsman retired hurt soon after tea, as the visitors chose to give all their batsmen some much-needed batting practice.
At stumps, India had made 327 for seven. Amit Mishra was batting on 48, and giving him company was S Sreesanth, on 15.
Earlier, the much-anticipated return of Sehwag turned out to be a damp squib.
Coming into this tour game, there was considerable hype about the 32-year-old's return from injury; it seemed the only way to change India's fortunes, damaged following successive thrashings received at Lord's and Trent Bridge.
The two-day game was supposed to be a dress rehearsal for the flamboyant batsman, ahead of the battle at Edgbaston, beginning Wednesday, but Sehwag's sojourn at the County Ground lasted just seven overs.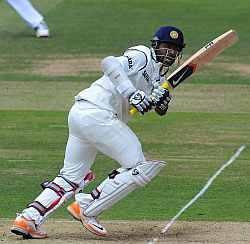 He was guilty of not offering a shot to a Dave Burton delivery that came in. The ball rapped the pads and the umpire did not hesitate to raise his finger.
Sehwag scored eight and his opening wicket partnership with Gautam Gambhir (18) yielded India only 15 runs.
The latter then combined with Mukund to add another 34 runs for the second wicket before being trapped leg before by David Willey.
Gambhir is captaining the side even though MS Dhoni is part of the squad.
Sachin Tendulkar and Rahul Dravid have given the game a miss.
The visitors went into the lunch break at 87 for two.
The second session was all about having some batting practice. Mukund and Laxman played some exquisite shots while building a steady partnership.
Mukund reached a well-deserved half century shortly after, with a couple off Burton. The duo put on 132 runs for the third wicket before Lee Daggett had Laxman (49) caught by Rob Newton.
Mukund went on to complete a well-deserved century.
At the second break, India had amassed 220 for three. Mukund was batting on 113, with Suresh Raina on 20.
Mukund retired immediately after tea. Luke Evans then made a twin strike to bring his side back into the game.
He first had MS Dhoni (2) caught behind -- as the Indian captain (not for this match) woes with the bat continued -- and then dismissed Raina (33) in similar manner.
It was a case of batting out the day thereafter, with the tail getting some practice.
On Saturday, it will be the bowlers' turn to warm up. 
Zaheer was seen preparing for the same long after the match was over.
Scorecard
India (1st innings):
Gautam Gambhir lbw b Willey 18
Virender Sehwag lbw b Burton 8
Abhinav Mukund Retd hurt 113
VVS Laxman c Newton b Daggett 49
Suresh Raina c Murphy b Evans 33
M S Dhoni c Murphy b Evans 2
W Saha run out 15
A Mishra batting 48
Z Khan c White b Best 12
Sreesanth batting 15
Extras: (lb-10, w-3, nb-1) 14
Total: (7 wickets; 90 overs) 327
Fall of Wickets: 1-15, 2-49, 3-181, 4-231, 5-237, 6-269, 7-284
Bowling: Burton 17-4-55-1, Evans 19-2-60-2, Willey 18-3-68-1, Daggett 19-3-52-1, Best 17-1-82-1.